Mike R. Vining, USCS #10433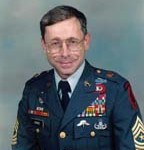 I am a retired Army Sergeant Major and have been an USCS member since 1991. I served as an USCS director from 2007 to 2009. I am also the author of USCS Data Sheet #25 Aleutian Islands/Alaska Waters Naval Ships. I have written several naval postal history articles that have been published in the Log. For those I received the Joseph M. Hale award for excellence in research and two Stanton Honeyman awards for best article or series. I have also had my postal history articles published in Linn's Stamp News. I am also a member of American Society of Polar Philatelists (ASPP).
My collecting interests are military, naval, mountaineering expedition, and polar expedition postal history. I am particularly drawn to Alaskan and nuclear testing history. At the age of eight, when I was in Cub Scouts, I needed a hobby in order to get an arrow patch on one of my badges. I looked at what different hobbies were out there and decided on stamp collecting. At first I collected worldwide stamps, then just U.S. stamps. I started looking at postcards as a source of stamps, but noticed the postmarks and in particular Navy ship postmarks. I learned that the story wasn't in the stamp, but the postmark and the postcard. Collecting Navy covers soon followed.
In the late 1980s, I attended a stamp show outside of Washington, D.C. and started searching dealer boxes for naval and polar covers. I discovered some naval 1934 Aleutian Islands Survey Expedition covers. I thought this would make for a small and specialized collecting area. Was I wrong! There are a lot of Alaskan naval covers out there from 1932 to the WWII time period to collect. It was there at the show that I learned of the USCS.
I served in the U.S. Army from July 1968 to January 1999. From 1969 to 1987, I served in the Explosive Ordnance Disposal (EOD) field (aka bomb disposal) and from 1987 to 1999, I served in the Infantry. From 1969 to 1978, I served in conventional EOD units with a year tour of duty in Vietnam from February 1970 to January 1971. In Vietnam, I was part of an EOD team that destroyed the largest enemy ammunition cache found in the war. The cache was called Rock Island East, which was located inside of Cambodia. From 1978 to 1999, I served in 1 st Special Forces Operational Detachment – Delta (Airborne) at Fort Bragg, North Carolina, with the exception of a tour in an EOD unit in Alaska from 1985 to 1986. In Delta, I went through the unit's selection course and graduated from the unit's first operator training course (OTC-1). From 1992, until I retired I was attached to the Joint Special Operations Command (JSOC).
Major military operations that I took part in while serving in Delta, included Operation EAGLE CLAW the Iranian Hostage Rescue Mission – 1980, Operation URGENT FURY the assault on Richmond Hill Prison, Grenada – 1983, Operation DESERT STORM the first invasion of Iraq – 1991 and Operation UPHOLD DEMOCRACY the restoration of power in Haiti – 1994. In 1996, I was the explosive investigator on the Downing Assessment Task Force investigating the 25 June 1996 truck bombing at Al Khobar Towers, Dhahran, Saudi Arabia.
While in the Army I was on three Navy ships: The USS IWO JIMA (LPH-2), MOOSBRUGGER (DD-980), and AMERICA (CV-66). On the IWO JIMA we conducted helicopter assault training, on the MOOSBRUGGER we landed our helicopter on her deck to drop off our wounded during Grenada, and on the AMERICA I spent 44 days during the Haiti operation for which I even received sea pay. I was the Senior Enlisted Advisor for the Joint Task Force 188 (JTF-188) onboard the AMERICA. I wore a white jersey on the flight deck during air operations. We had 64 Army, Air Force, and Navy helicopters onboard the carrier. Also during the mission, sending out mail was forbidden, but I was able to get some covers cancelled on the first day of "Free" mail by the ship's postal mail clerk.
After retiring from the Army, my wife, Donna Ikenberry, and I bought a house in South Fork, Colorado where we live today. We enjoy mountain biking, alpine and backcountry skiing, backpacking, and mountain climbing. We spend half-the-year traveling for Donna's work as a freelance photojournalist.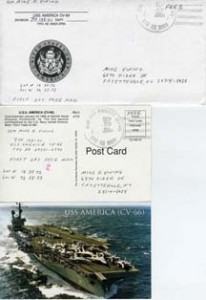 by Mike R. Vining, SGM USA Retired