RADM Franklin Hanford
RADM Franklin Hanford
By Glenn Smith (#8073)
RADM Franklin Hanford covers: The two covers below are addressed to RADM Franklin Hanford. The top cover was to Hanford when he was a lieutenant commander in USS PENSACOLA and is posted from Toronto, Canada on July 17, 1890. (Note: Hanford was the navigator in PENSACOLA from 1881-1884. Why the cover was mailed to him in PENSACOLA in 1890 is a mystery.) The bottom cover was to the then retired rear admiral at his home called simply, "The Farm" Scottsville, NY and is dated December 18, 1924.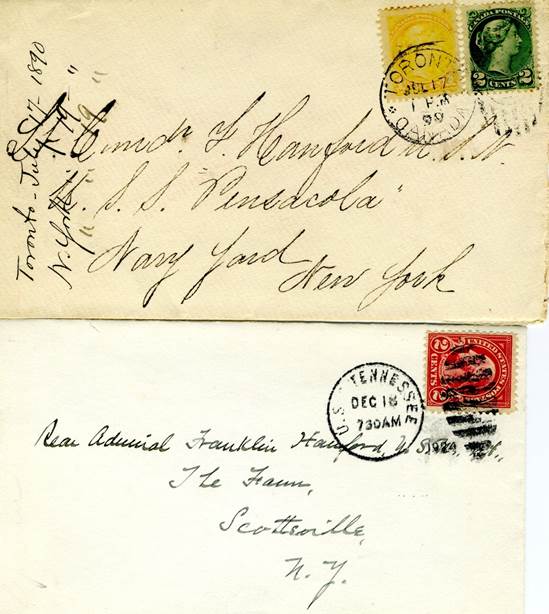 Quoted from the Franklin Hanford papers, NYC Public Library:
The connection consists or correspondence, scrapbooks, photographs, and other memorabilia belonging to the Hanford family of Scottsville, New York . Franklin Hanford was born in Chili, New York on November 8, 1844, the oldest child of William Haynes Hanford, Jr. (1819-1903) and Abbey Lewis (Pixley) Hanford (1822-1885). After attending Rochester Free Academy he applied to the United States Naval Academy in November, 1862. After he had passed the entrance examinations, he discovered that, because of a recent rule change, he was too old to be admitted. Dismayed, he went to his Congressional representative, Alfred Ely, who arranged an interview with Abraham Lincoln. Lincoln, after hearing Ely's plea in Hanford's behalf, wrote a note to the Secretary of the Navy, Gideon Welles, directing that Hanford be reinstated. Hanford graduated in 1866, and thereafter he rose steadily through the ranks of ensign, 1868; master, 1869; lieutenant 1870; lieutenant-commander, 1885; commander, 1894; and captain, 1901. He retired in 1903, after having reached the rank of rear admiral in that year.
During his 40-year career, Hanford received many important assignments. He circumnavigated the globe in 1881-4 aboard the flagship Pensacola, taking observations for the determination of the variations of the compass. During the revolutions in Ecuador and Nicaragua, 1895-7, he commanded the U.S.S. Alert and cruised in the waters of those countries in order to protect American interests there. After the Spanish-American War, Hanford was appointed commander of the United States Naval Station at Cavite, Philippine Islands. While there he directed the salvage operation on Spanish warships that had been sunk by Admiral Dewey during the war.
Upon his retirement in 1903, Hanford returned to Scottsville to manage a farm that he had purchased some years previously. In 1912, he suffered a stroke that paralyzed his right side and left him almost a complete invalid. He continued to occupy himself with collecting and studying books on naval and local New York history, and he wrote several pamphlets on these subjects. He also attempted to trace his Hanford and Pixley forbears and he and a cousin, Edward Evans Pixley, wrote and published "William Pixley and Some of His Descendants" in 1900. Admiral Hanford went blind in 1925, three years before his death at Scottsville, New York, on February 8, 1928. For additional information, see the Franklin Hanford Papers.