York Briddell Photo Discovery
by Lloyd Ferrell (#12082)
(Originally published in May 2021 LOG)
In October 2017, we celebrated the 85th Anniversary of the USCS, and the LOG that month included several interesting articles. Most of them were written by Steve Shay, who discussed the early days of USCS, and also listed members in the Navy Cover Collectors' Hall of Fame, complete with a photo and brief biography. Well, that is, a photo for all except one person—York Briddell.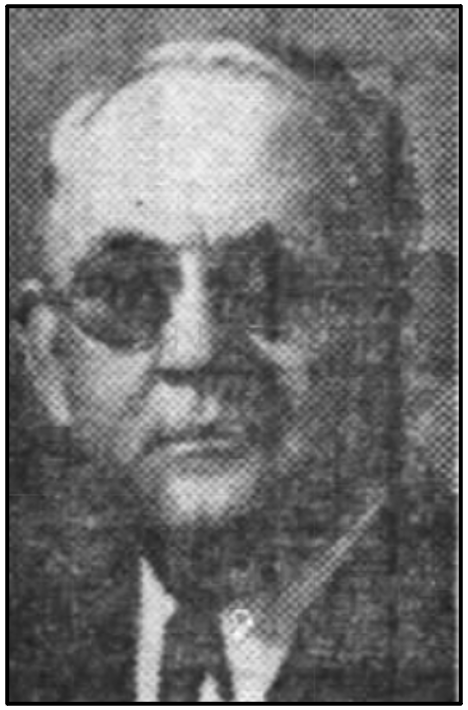 It has been especially frustrating not having a photo of Briddell, because he was one of the co-founders of USCS and the first USCS president. Back in 2017, after reading Steve's articles, I did some research on him hoping that I might locate a photo. Although I did find quite a bit of new information about Briddell no photograph surfaced—I even tried contacting a distant family member of his, but had no luck with that either. Just recently, however, I decided to give it another try, and BINGO, I quickly found his photo
along with an obituary. It turns out that in the intervening years, some additional newspapers had
been digitalized and were now available online. The quality of the
picture isn't great, but at least we have one.
For now, I just want to share eventually I may write a full article about York Briddell. Really briefly, Briddell was born in 1882, and lived with his family in North Carolina and Tennessee before eventually settling in the area of St. Petersburg and Tampa, Florida. His father was a road contractor, and later, York himself worked in the same business as a civil engineer. Beginning in the 1920's, he was active in civic affairs, especially with the St. Petersburg Chamber of Commerce, and he was also an early advocate for civil aviation. In fact, I think it was probably his interest in aviation that led to collecting covers in the first place.
From what I've seen, Briddell probably started collecting aviation covers around 1929, and he quickly became a leader in the St. Petersburg Stamp Club. His interests soon branched out to naval covers and, in 1932; he and his friend Alfred Newman formed the USCS. Briddell became the first president and first editor of the monthly newsletter (now the USCS Log), and stayed active with USCS until 1935. After that, he seems to have had little contact with the organization he helped found. His interest in aviation covers, however, remained strong, and he even became a director in the American Air Mail Society. In July 1948, York Briddell passed away at the age of 66, while on a trip to Miami.
After all these years, we can finally put a face to one of our founding members.