Walter Grabowy, USCS #8436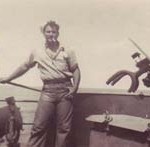 I first met Walt back in 1980, when I was trying to establish a USCS chapter in Rockland County. My effort failed, but we did start Study Group # 1 in September 1980. Walt was a World War II veteran, having served in the Coast Guard (1939-46) and was especially proud that he served aboard USS CAMPBELL, G.G. (1940-43). He and the ship's mascot, Sinbad, went on many liberties together. Once Sinbad made it back to Boston before Walt. Walt took the dog to New York for the weekend.
Walter joined the USCS in 1979, developed a love for cover collecting especially in submarines and Taze Nicholson covers. Somewhere Walt decided to design stamped cachets for Coast Guard units. His first cachet was donated to USCG Loran Station, Fallen NV with a SLK/ FIRST DAY OF USE (April 24, 1980). The straight-line cachet became a familiar marking on his covers, as they were sent to the unit with the donated cachet, ink pad and bottle of ink. Somehow, the covers got postmarked at the local post office and returned in a larger SASE. They were sold to fellow collectors to cover some of his cost.
The designs of the cachets would either come from the unit itself or Walt would design the cachet and send it to the unit for prior approval. Once approved, Walt would have it made by a local stamp company. Sometimes, the unit would send a cloth patch or copy of the patch. Walt would work on it for hours, tracing the patch, and then take it to local Staples where it was reduced to a size, suitable to fit on the left side of an envelope. He used many a bottle of white-out, especially to take out unwanted lines.
His third cachet (Station Sandy Hook) is most memorable to me. The cachet was for the station, where I performed weekend drills in the Coast Guard Reserve. Walt asked that I deliver it to the station. It was October 1980. An "Northeaster" had hit the area and the Sandy Hook peninsula was turned into an island. The covers were carried to the post office in Highland NJ, via a Coast Guard DUCK (October 25, 1980). I never heard the end of it, as covers were machine canceled; the hand cancel had been locked in the safe.
Grabowy started an annual Coast Guard Day (August 4th) cover in 1992 and he continued producing them until 2002. One of his goals was to provide a stamp cachet to as many Coast Guard units, as possible. Walt would make cachets for naval vessels as well but the only one documented with first day usage for USNS MOHAWK (T-ATF-171) in April 1981. He even made cachets for some USCS members.
In going over my Grabowy covers, one can trace the history of the Coast Guard for at least two decades. He documented the building events at Middleton, RI for the 240-foot "Famous Cutter" class, both the 225-foot "Juniper" Class and 175-foot "Keeper" Class buoy tenders built by Marinette Marine WI and many of the first 87-foot "Coastal" patrol boats at Lockport LA. Grabowy liked to produce cachets. On one trip to the USS Nathan Hale bourse in Connecticut, we stopped at McDonald's for coffee. He liked the design of their container so much. He placed it in his pocket; the McDonald logo became the basic design for a new cachet for USCGC RIDLEY (WPB 87328). A cover for the patrol boat KINGFISHER (WPB 87322) sports a cachet with the familiar border of stars found in New York City's official seal, while WAHOO (WPB 87345) sports part of a well-known pancake syrup.
He got more people interested in the collecting of Coast Guard covers, especially where he donated well over 400 hundred cachets to various Coast Guard units. Walt did about 540 events during the period from April 1980 through November 2002. Walt lived up to the USCS motto QUAM PLURIMIS PRODESSE. He truly provided a service to the collector, the USCS, and the Coast Guard. Walt worried about Coast Guard cachets up until the time of his death in December 2002. On my last visit to the hospital, Walt was still concerned about some future events. He crossed the bar several days later.
Remember: cCollecting Coast Guard covers is FUN! FUN! FUN!
By John Young, USCS #L-8219