Tom Armstrong, USCS #9909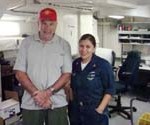 Tom, along with PC1 Pastrana aboard USS Kittyhawk
I was born December 1948 in Cleveland Ohio. My Dad was in the Navy during WWII (MM). He served aboard the USS Foote DD 511 and PT boats. He never talked about his Navy time. I have a few papers and his 214. He died when I was 15. I quit school to work full time to help at home with my mom and sister. My Uncle was stationed aboard USS Sturtevant DE 239. My Father-in law was a retired Signalman Chief stationed aboard USS Manchester CL 83 and USSCobbler SS 344.
I joined into the Navy. Went to Boot Camp at Great Lakes Halloween night (0000) 1966. Very cold and lots of snow just about the whole time there. I was 17 and never away from home before, I had no idea what I was going to do. I received orders to Midway Island directly from Boot camp. Got off the plane on Midway some old Chief laughed at me and ask if I want to be a dumb a– cop or a dumb s— Fireman. I said I don't know; I guess a fireman. So he pointed the way to the end of the Island to the Fire Station. So I carried my sea bag there. I was on the Crash Crew (Aircraft Firefighting) for a fantastic year. Great duty. Nothing there but Gooney birds. Midway no longer belongs to the Navy. I belong to a Midway Island group. Midway was like living in a small town, good bunch of people that were stationed there.
From Midway Island I went to USS Constellation CVA 64, V-1 Div. Crash Crew on the flight deck (ABH). Two years, two WesPac's Yankee station. Long, long 20 hour days working on deck. On the line 40 to 60 days, in port 3 or 4 days, 3 duty section, worked in port every day until 1600, Cinderella liberty. The ship had 2 more months (Dec 1969) on Yankee Station but I got flown off on a COD to get out. I got out 2 weeks before I turned 21. I was a "Kiddy cruiser".
From San Diego and out I moved to Modesto Cal, a buddy got out before me said go there and wait out the winter before I go back to Cleveland. Well I met a gal and have been happily married since 1971. Never went back to Cleveland. Lived in Modesto 4 years, got laid off at LOF making car glass. I have in-laws in Bremerton Washington, all said with my Navy Vet time I can get in the yard (PSNS). No luck but at the time Pan Am Airways just took over Subase Bangor Fire and Security and I got a job as Fireman. I was there 5 years. But it did not provide good job security because with contractors low bid wins the contract so as other company's take over you can lose your job or loose pay and benefits. So I took a job at PSNS Fire Department as a firefighter. I was there 24 years (retired) the last 10 working as a Fire Inspector.
About 22 years ago I saw my first cover. And working in the yard around ships/subs and was in the Navy it looked like a cool hobby. I got hooked. I would copy, paste and type on covers and have them printed at a print shop in town. Since I just happen to be near a ship or pier I'd run aboard ship to the post office and cancel my covers or PSNS post office. The last 8 years or so, I made my covers on the computer using Word and print at home.
The years at PSNS there were many Commissionings, Decommissionings, Inactivations, Deactivations, Scrappings, and a Legacy Ceremony (Decommissioning Ceremony of CV 63). So I was there during some really good cover times. Most US Navy nuclear ships (CGN) and subs (SSN & SSBN) came to PSNS for scrapping. Some are decommissioned at other bases but then are towed to PSNS for scrapping. I collect ships lighters, booklets, patches, plaques. So as the ships and subs would come in I'd hit up on the ship's store, post office, PAO, R div where plaques are made and many others for goodies. The ships/boats crews would strip out everything. Anything not given to other ships went into the dumpster. So I did my part and helped get rid of their junk.
The best part of my job was riding the ships to PSNS for overhaul or decommissioning. The job would give me a one way ticket fly down to San Diego and ride the ship back up to PSNS. I would go on ships TV, have meetings, walk through out the ship talking fire safety and PSNS to the crews. I not only got to know the layout of the ships, but people like the CO, XO, DCA, Fire Marshall, Gator, PAO and many, many others. So during their stay at PSNS I would be the go between as far as fire safety. While in the yard I would give tours to not only our firemen but also City of Bremerton Fire Department and other mutual aid Fire Departments.
As a pee-on (peon) E-3, living in an 80-man berthing space while stationed aboard the Connie years ago, I learned all about ship board living. So I learned 30 years later to get a buddy (DCA or Fire Marshall) to get me my own stateroom. Wow that is the only way to travel on a Navy ship. The ships sure are different from 30 years ago. Satellite TV, CNN, Email, females aboard, the cruise is only 6 months, no longer.
I belong to USCS Puget Sound Chapter. A very good bunch of guys like Lou Parker and Bob Clark. They really helped to get me going. Meetings are in Seattle at the Coast Guard Museum. But when I retired from PSNS four years ago and lost contact with ships/subs I have not been to many meetings. For about 20 years I took anything I got (booklets, covers, pictures etc) to all the members at the meetings. It was a good time.
Doing many covers over the years and working with many PC'S I found out just what happens to our covers when we mail them to a ship to cancel. The PC's are very busy and undermanned. So when they get mail request to do a cancel it gets thrown in a box to do later when they get time. Usually the Chief and first class know all about guys like me that collect covers. But the extra work of doing a cancel goes (most ships) to the poor PO3s who don't know or care about this extra work. I'd come in and they thought I was nuts and I always tell them I'd do all the work just put me in a corner out of the way and I'd do any covers they had also. Most of the time I'd have 200 or more covers to cancel from the PC's "stack". Some were for me, other collectors, our local Chapter and other Chapters. Boy they would light up when they realized that I would do all the work. So I'd get to know the PC's while they were in the yard or during my ride. Also found out a soda goes a long way (kind of like a bribe). I would always give out covers to all the PC's, and talk about the USCS and cover collecting. I'd show them how and why to do a good cancel. I personally always try to fill the back and front of the cover with what ever they had to cancel with or whatever cachet markings or address stamps I could locate.
Then there is the PC going by the book. Five covers ONLY! And he can be the only one to cancel, so come back in a few days and maybe they will be done. I guess I understand this because it is the rule and the ones trying to make rank don't want to get into trouble. It was sort of funny on two ships, that would only do five. So I got to know their boss. He would take me to the post office, then he would tell the PC to go to lunch or take the day off. Then he would tell me go do what ever I wanted to do, and tell me to lock the door on the way out. Some of the ships have meter mail (PVI). I would set the money amount to zero and put the date in and put those on covers. I would sometimes put the month or day upside down on the cancel (my trademark).
Not sure how doing away with the PC rate will hurt our hobby, but the PC duties will be part of the Supply Department from now on. I hope there will be no changes that hurt us.
by Tom Armstrong