Kemp Tolley, USCS #8090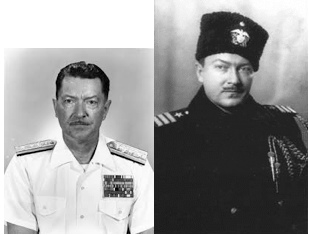 The son of an active duty US Army officer, born at Ft. McKinley, Manila, Philippines on 29 April 1908, Rear Admiral Kemp Tolley, U S Navy (Retired) was graduated from the United States Naval Academy in 1929 and died on 28 October 2000. Admiral Tolley married Vlada Gritzenko, while he was assigned as Naval Attaché in the USSR. He was a friend of naval cover collectors and a USCS member. Admiral Tolley was the guest speaker at the 1977 USCS National Convention held in the Hilton National Center, Arlington VA, sponsored by the Adm. Byrd Chapter.
Tolley is most remembered by naval cover collectors with his unique "Sailors Mail" rubber stamp which included a facsimile of his signature in the marking, used when the ship was out of postage stamps. He collected military uniforms of all nations and often wore exotic hats. A gardener, he made tomato juice and peach brandy.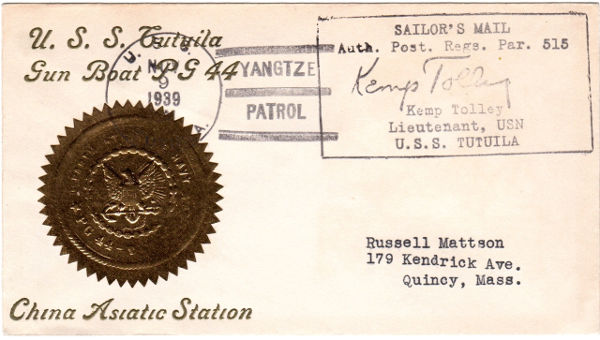 Tolley was one of the last Tombstone admirals, retiring in 1959, the year that legislation ended the practice of retiring naval officers and sailors in one senior grade based upon medals awarded for combat valor.
Tolley's career followed relatively normal channels as junior officer with duty on board USS FLORIDA (BB 30), TEXAS (BB 35), CANOPUS (AS 9), HOUSTON (CA 30), and MINDANAO (PR 8) in the 1930s. He also served on the exotic China station becoming XO of USS TUTUILA (PR 4) on the upper Yangtze River. In November 1941 he left China aboard USS WAKE (PR 3) to Shanghai where he boarded USS OAHU (PR 6) for Manila, Philippines. On 5 December 1941 he was given command of USS LANAKAI (a schooner-yacht) ex-USS HERMES.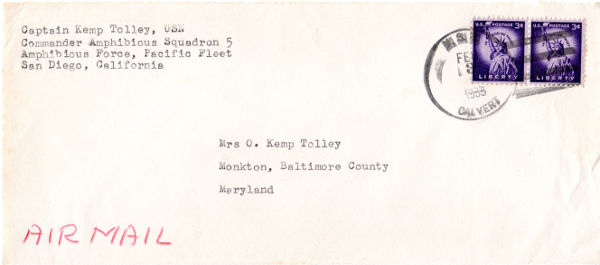 In later years, Tolley wrote that his command of USS LANAKAI was a top-secret mission that proved President Roosevelt suspected that the Japanese intended to attack America and was providing an easy target, LANAKAI which took a curious route in waters where the Japanese Navy was known to be. His 4,000-mile, three-month odyssey ended in Australia where LANAKAI was eventually turned over to the Australian Navy.
During World War II, he spent two years as an assistant naval attaché in the Soviet Union and saw combat in the Pacific as navigator of USS NORTH CAROLINA (BB 55). He was wounded in the fight for Okinawa.
After the war, his assignments included a tour from 1949 to 1952 as intelligence division director at the Armed Forces Staff College. His last assignment before retiring from active duty in 1959 was as commander of a Western Pacific amphibious group. He was fluent in Russian, German, French, and Spanish.
In retirement he wrote more than 100 articles and three books, Yangtze Patrol, Cruise of the Lanakai and Caviar and Commissars.
He received 17 awards, including: Bronze Star Medal, Navy Commendation Medal, Purple Heart, Yangtze Service Medal, China Service Medal, American Defense Service Medal with "FLEET" clasp, Asiatic-Pacific Campaign Medal with one silver and two bronze battle stars, European-African-Middle Eastern Campaign Medal, World War II Victory Medal, Navy Occupation Medal with "ASIA" clasp, National Defense Service Medal, Navy Expert Rifleman Medal, Navy Expert Pistol Shot Medal, Philippine Presidential Unit Citation, Philippine Defense Medal with star, Philippine Liberation Medal with star, Philippine Independence Medal.
By Richard F. Hoffner, USCS Honorary member G-4456