USS Wahoo SS-238
By Steve Shay (L-10,821)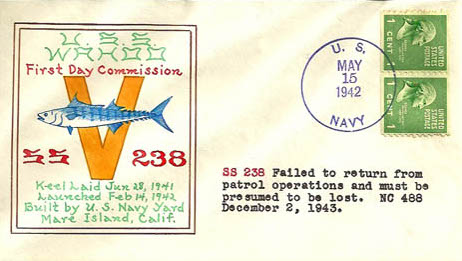 The USS Wahoo was one of the well recognized submarine names to come out of World War II. Under commanding officer Dudley "Mush" Morton, the sub claimed sinking 17 ships for 100,000 tons. (Post war records readjusted this to 19 ships and 55,000 tons and placed Morton among the top 3 submarine skippers of the war.) Morton implemented a different type of tactic by having the executive officer man the periscope during attacks while Morton made the decisions and conned the sub. This tactic paid off handsomely. Morton's first executive officer, Richard O'Kane, went on to his own command with USS Tang, another very successful submarine during the war. Sadly, Morton and the Wahoo would be lost to enemy action October 11, 1943.
This cover marks the first day of commission for Wahoo, May 15, 1942 at Mare Island. Another collector added the typewritten information to the cover, probably added during war time.
The cachet artist is also a well known name among naval cover collectors. Gow C. Ng (USCS #190, ANCS #160) first prepared cachets as early as 1931 and most of his cachets were hand drawn and readily recognized by his style. Submarine events received most of his attention but he also did covers for destroyer events and other surface ships, special events and he drew the navy seal as a cachet for almost 100 surface ships. It's the submarine covers that he is most well known for. These covers were for keel laying, launching, commissioning, first day of postal service and shakedown covers. Gow had a series of designs that he used, some featured the type of ship, others featured the namesake of the sub as shown on this cachet, a wahoo fish. His covers were for sub events on the East and West coast but this month's cover was one of the last three for Mare Island submarines. His connections must have been better on the East Coast where he lived.
Gow sold many of his covers for what was then probably a high price of 20-25 cents per cover. Sets of covers such as one he prepared for the Squalus disaster were $20 for the set of 20. Today, his covers have appreciated greatly, selling for more than 100 times the amount of single covers, showing their popularity with collectors. He stopped making covers shortly after the end of World War II. Many of his cancelled but uncacheted covers can be found in dealer boxes or with rubber stamp cachets applied as add ons at a later date.