Bertha L. Thompson, USCS #H-1247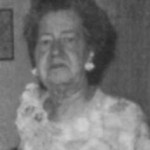 Bertha Thompson joined the USCS in November 1936, sponsored by John Haag of Brooklyn (USCS #92). She is listed in the 1938 USCS Roster as Miss B.L. Thompson, #1247, of Wollaston, Mass. She lived in Boston during the 1940's and in the area the rest of her life.
World War II called many USCS officers and members off to war so Bertha took the job of Editor of the Log in October 1942 and held that position through April 1946.
She was elected President of the USCS for the 1943-1944 term and reelected for the 1944-1945 term with Win Grandy taking over in April 1945 while Bertha went on to serve one term as a Director. Bertha's service to the USCS was not just timely, but extremely important and helped keep the society afloat during World War II. Had she and a few others not stepped up to the task, it is easy to see how the society could have folded during the war years. We can thank Bertha for her hard work, dedication and devotion to the hobby to step up to be not only President but also the Log Editor during these years. As a result, the society is still going strong after close to 78 years.
She was one of just five USCS Presidents to also serve as Editor concurrently while serving as President.
Bertha was a very active collector of Naval Postmarks and pictures.
She was President of Old Ironsides Chapter #1 several times, as well as Vice President and Secretary at least once and was Secretary of all their annual get togethers. She helped with organizing the 2 nd National Convention held in August 1941 and the 7th National Convention held in Boston in June 1958. She served as the Ways and Means Chairman for that convention. Some chapter meetings were held at her home. In 1950 when some of the members of Old Ironsides Chapter decided to update the Naval Postmark Catalog, Bertha spent many evenings checking copies with both Joseph Hale and John Gill. She also acted as Business Manager for the project as early as 1946. She made regular updates in the Log on the progress of the Catalog.
Bertha passed away April 19, 1982 after a stay in a nursing home in Braintree, Massachusetts.
She was elected to the USCS Hall of Fame in 2008.
By Steve Shay (#L-10,821)