Jack Howland, USCS #4138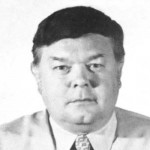 Jack Howland was born in Glenford, New York October 15, 1924 and was raised near Kingston, New York, moving to the west coast in 1939. As a boy, he watched ships on the Hudson River and he remembered seeing the Day Line excursion boats as well as the USS Talbott when it visited Kingston and watching the maiden arrival of the SS Queen Mary. He served in the Army during World War II in the Third Infantry Division, participating in the invasion of Southern France in 1944. He was wounded in action in Germany. After the war he went to work at the Alameda Naval Air Station and then elected to continue his education. In 1950 he became employed at the Mare Island Naval Shipyard, eventually serving as a naval architect in the design divisions arrangement branch and he was a project engineer for nuclear submarine construction.
Jack joined USCS in May 1961 and he helped organize the USS Saginaw Chapter in 1963, serving as it's first Chairman and later as Chapter President. He was a very successful recruiter for the USCS, and a review of Secretary reports during the 1960's shows his name almost every month as a recruiter. He attended conventions and regional society meetings. He was the Chairman of the USCS Chapter Advisory Board for a period during the late 1960's. In 1975 he was elected to the position of USCS Director, a position he held for fourteen years through 1989.
He enjoyed exhibiting and often won awards with exhibits of the SS Savannah and with destroyer exhibits. He was a designated USCS Exhibit Judge and he also helped form the Postcard Study Group and worked to expand the selection of postcards available to members.
Jack died on May 17, 1990, shortly after arriving in Columbia, South Carolina for the 1990 USCS Convention.
By Steve Shay (#L-10,821)