Raymond St. John, USCS #H-1376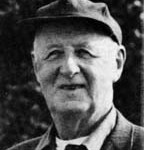 USCS members may recognize the name Ray St. John and recognize this as the name of a USCS service award. Some may even know the name from USS Mississippi covers. But who was Ray?
Ray was a career Navy man, born in Waterbury, Connecticut. He enlisted in the Navy in 1927. He served aboard the USS Gilmer as a mess cook and later transferred to the USS Arkansas where he began a career in ordnance. It was aboard that Arkansas that he started collecting naval postmarks. He has been a stamp collector since being a kid and he became interested in postmarks from the ships he served aboard and saw. He went aboard ships and obtained cancels from the mail clerks but later learned that collecting naval covers was a hobby and that there were other collectors.
Ray first joined the American Naval Cancellation Society (ANCS) and was member 194. He was a very prominent member of ANCS. He finally joined USCS in January 1937 after member Mike B. Owens convinced him to join. Ray was serving aboard the USS Mississippi at that time. It was on the Mississippi that he was asked by the ship mail clerk if he would attend to collector requests for covers when he reported aboard in 1934. He did not officially serve as mail clerk, so he must have performed the canceling in his off duty time. Strikes from the Mississippi for covers for 1934-1938 were likely applied by Ray who took great care in making sure the strike was clear. I know I have some Henry Stinemetts covers addressed to Ray aboard the Mississippi that have Mississippi cancels.
Ray was aboard one of the famous 50 destroyers and helped turn it over to Great Britain. In 1941 he was stationed in Iceland helping to arm convoys in the North Atlantic. The Cachet Makers Catalog lists him as serving on the USS Vulcan and USS Medusa at some time in his career. Ray eventually reached the rank of Lieutenant before retirement in 1957.
Ray was one of the few USCS members to meet Dr. Francis Locy. Ray told Dave Kent that his ship was in the Caribbean and called at an island where Locy was serving and he made arrangements to meet him. There they were, the world's greatest expert on naval cancels and a young kid with a few dozen covers in his collection. Ray said they had a beer together and passed the time but that was about it. This must have been sometime between 1929 and 1931.
After retirement, Ray lived in the New York City area and he became a member of the Admiral Farragut chapter. He served as Vice President of the USCS 1959-1961 and then President 1961-1963 and then as Director 1963-1969, 1973-1975. During his presidency, the Catalog of Naval Postmarks was updated and published again and he later served as business manager for the Catalog. This is the catalog that was eventually published in its 5th Edition in 1997. He also served as the Society Historian for a period.
Ray retired to Waterbury and became a charter member of the Nathan Hale Chapter in 1970 and led the Chapter during its early days with advice and encouragement.
Ray passed away December 1, 1977 after a lengthy illness. Letters of remembrance in the February 1978 Log mention his Irish sense of humor, his ability to be friendly with complete strangers and his willingness to serve and help others. There are several mentions of him helping other collectors and sharing his knowledge and him being a true gentleman. Ray was survived by his wife Helen, his daughter and four grandchildren.
In 1978 the USCS Ray St. John Award was established to recognize those living individuals who have provided exceptional service to the USCS or naval cover collecting. The service must be of such a nature and length of time so that only a small number will be able to qualify. Because of this requirement, it is not an annual award and is only presented when there are deserving members. In 2001 the award was renamed the Ray and Helen St. John Award.
by Steve Shay