Robert W. Matthews, USCS #H-65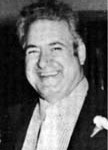 Robert W. Matthews was one of the early members of USCS, joining in March 1932 and receiving member number 65. He was sponsored by John Grove (#60) of York, Pennsylvania. Bob lived in Chicago and started collecting naval covers in 1931. He received a list of ships from USCS member Earle Nason (#17) who was writing a column in "Gossip". This launched Bob into the hobby. His first naval cover was from the USS Milwaukee in March 1932. Bob also joined ANCS and was member #65. (Bob was not listed in the 1938 or 1938 USCS Membership books. He must have left USCS for a period, probably while being a ANCS member.)
(Bob is listed on the original USCS roster as Robert A. Matthews. Later rosters and Membership books have him listed as Robert W. Matthews. The original roster listing was surely in error.)
When he received a list of USCS members, he noticed that there were enough members in the Chicago area to form a chapter. On January 6, 1934, the first meeting of the new Admiral Moffett Chapter was held at Bob's house. The name was chosen because Bob and fellow Chicago member Ed Brennecke (#122) had been following the movements of the Akron and Macon and Admiral Moffett, as first chief of the Bureau of Aeronautics was a logical namesake. Bob was elected the first president of the chapter. The USCS Membership book in 1946 listed Bob as Chapter President.
In 1937 while an ANCS member, Bob sponsored a Navy Day cover for the ANCS Independence Crew, drawn by C.W. Richell. This cover was serviced on all ships in the Asiatic Fleet. Bob told Robert Rawlins that this was the only cover he produced.
Bob edited the Merchant Marine column for the Log for a period in the1930's. He also edited the Naval column in the Western Stamp Collector until joining the Army in June 1941. Bob saw service with the 3 rd Armored Division in the European Theater during WWII and was wounded in action on his birthday, August 17, 1944. The 1943, 1944 and 1945 USCS Membership books lists Bob as PFC Matthews.
He also served as USCS Director 1941-1943. After the war, Bertha Thompson and Winfred Gandy asked Bob to run for President of USCS. He was elected to two terms, 1947-1949. He also served as the USCS Historian for a period.
Bob married during the war and his wife Kathleen and he attended several meetings of the Dewey Chapter in Harrisburg, Pennsylvania in 1943 while stationed at Indiantown Gap, Pennsylvania. They had 2 sons, Bob Jr. and Jack (#5065). Both served 6 years in the Coast Guard Reserve. They also had 2 daughters Kelley and Peggy. Bob worked for H.C. Lytton & Co. in Chicago, a clothing store chain. An article in the October 1975 Log stated that he had been with H.C. Lytton for 46 years and looked forward to retirement in about 2 years.
Bob passed away February 25, 1992 after a long illness. He was serving as President of the Moffett Chapter at the time of his death, just a few weeks short of being a 60 year USCS member.
by Steve Shay