Jim Russell, USCS #H-692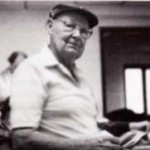 The name Jim Russell is surely well known to long term members of USCS. To those who have joined after 1992, the name may not be as well known. Jim's many contributions to the society were important, but his legacy will be remembered as keeping the Postmark Catalog alive and expanding it and helping others to continue his work. Jim passed away in April 1992 and the June 1992 LOG contained remembrances from several members. These are excerpted here.
From Bob Rawlins: "Jim joined the USCS in 1934, a pioneer in the hobby of collecting Naval covers. He served in the Seabees during World War II, leading to a life-long interest in Construction Battalions and their history. His first writing in the USCS LOG was a series of articles on Seabee postmarks and covers, beginning in 1946.
In the 1950's he joined with his brother-in-law, Andy Fernandez, and other East Coast experts interested in reviving the Catalog. Over the next decade other members of the committee died or lost interest in the project, but Jim stuck with it until, by the late 1960's, he was solely responsible for the publication. Although he enjoyed the help of many advisors and experts, he had the task of preparing the final copy for publication, and thus the ultimate responsibility for the contents of the Catalog.
Jim presided over the greatest expansion of the Catalog since its founding by Joe Hale in the 1930's. He recorded hundreds of new finds from the classic period, identified and classified many confusing postmarks from the 1930's, and worked at length with the difficult period of World War II and its aftermath. Yet he retained as serious an interest in modern, common postmarks as he did those great rarities.
When Al Dowle died in the late 1960's, Jim took over his column on naval history in the LOG. Dowle offered a dry recitation of facts, but Jim, although far from a trained writer, added a wonderful personal style to the column. Who else but a life-long member of the Decatur Chapter, for example, would bother to note in the Catalog that the destroyer DECATUR, when sold for scrap, brought the government exactly $8,777.
Jim was a rabid baseball fan, and whenever we traveled to a convention he made it a point to check out the schedule of the nearest team. After a convention in Anaheim, he wanted to see a Dodgers game, so I rented a car and drove him the considerable distance to the stadium. As luck would have it, I got lost on those dreaded Los Angeles freeways, and although we had started out in plenty of time, we were almost late and couldn't get decent seats. I know Jim was disappointed, but he never complained. It was baseball, and he loved it.
When Jim retired as Catalog editor in 1986, he claimed that he would no longer be involved with it. However, when we finally got together a committee to work on the next edition (and it took a dozen of us to replace him), he began sending me notes and other information, including all of the original illustrations for the book. After his years of dedicated effort, he was not about to let the Catalog fail."
Jim was also remembered by Rich Hoffner: "Jim was more than a person I knew in our Chapter. He was family to me. I will miss him as much as I would miss a parent, spouse or child. The hobby will miss Jim. He contributed his life to the USCS. Standing at his desk two weeks ago, I almost cried out loud. I was surrounded by his catalog, unopened mail, his many USCS exhibiting awards, photos from past conventions, part of his collection, car keys and the TV he watched the Phillies on.
I had flashbacks of our acquaintance which ran almost 25 years, remembering Jim as a father, a brother, a friend, a person always welcome at my door, a person who would pitch in to help with an odd job, a person who found joy in discovering a new ship cancel on a cover he just received in the mail and calling me first to share the news."
These notes from the Admiral Byrd Chapter tell something of the personal side of Jim: "He was the source for definitive information as well as the various bits of esoteric information concerning naval covers, postmarks and history that make our hobby so much fun and so rewarding. Chapter members will be able to look back on hours spent in the coffee shops, hotel rooms, hospitality suites and lobbies at the various sites of USCS conventions, regional meetings and ad hoc gatherings during which Jim gave freely of his vast knowledge of our hobby to all who were interested. Many times the discussions were heated and adversative —Jim was not loathe to express himself vociferously — but you came away with a clear picture of Jim's views and the knowledge that he was a sincere, knowledgeable, and caring individual. Jim served the Society well for many years."
This note from Paul Helman also told something of his personal side: "I got to know Jim by reading his monthly Log column and by personal contact at the past eight National Conventions. Jim was a regular attendee. I always made time to talk to him about our favorite subjects, naval covers and baseball. Jim was a fan of both. I remember Jim at the Columbia, S.C., Convention where he found some YMS type 2zs covers that even he had not seen before. The sheer joy on his face was priceless. I was always amazed that he could find anything that he didn't already own. He was a wealth of knowledge about the earlier days of the USCS and related stories he knew of the many collectors he had known and befriended."
Other notes in the Log noted that Jim was Member #1 of the Tokyo Bay Study Group and that Jim had written a Log article about Hobby Shop cachets, educating others with the history of these cachets. I have a post card in my collection that was prepared by Jim, getting the cancel from a ship that pulled into port where he was stationed during World War II.
Jim passed away four months after having suffered a heart attack in December 1991. Think of him next time you thumb through the Catalog of United States Naval Postmarks. He guided the development of this great publication for 40 years.
By Steve Shay