Jim Smith, USCS #5861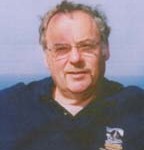 Jim is one of our members who is both a collector and a dealer. You may recognize his business name of Pack-Rat Covers. He's helped many members add covers to their collection. He's helped me on more than one occasion with St. Patrick's Day naval covers and with mail from the Armed Guard for my exhibits, He has attended 23 USCS conventions so many of you have had a chance to meet him over the years.
Jim's collecting days go back to his childhood on family vacations when he sent post cards home from odd named towns. A friend's father gave him copies of Linn's Stamp News and that expanded his interest of postmarks into naval postmarks and even today he considers himself a postmark collector first. His naval collection includes non-philatelic mail and #10 penalty covers though he also likes some cachets, especially Crosby cachets. This early interest in postmarks led to Jim joining USCS as a junior in 1967, sponsored by Taze Nicholson. (Another Member of the Month, Jim McDevitt, is one membership number away from Jim Smith, joining in the same month.)
Today Jim collects Navy Classics, WWII, Tokyo Bay, Pearl Harbor and Equator Crossing covers. His non-naval interests include 20th Century fancy cancels on registered mail, Presidential widow free franks, and numerous other small areas of interest. Michigan town cancels form a large part of his collection.
Jim went to Western Michigan University majoring in History with a minor in Political Science hoping to get a teaching position. Because the market was poor for teaching candidates, he took one of those so called filler jobs, working at the post office until something better came along. As happens to many of us, the filler job turns into a career and Jim retired from the Postal Service 30 years later.
Being a cover dealer is also something Jim has worked at for many years. He started in high school, buying big auction lots and collections in order to pick through them and keep what he wanted. He had to sell the unwanted material and sent out mail order price lists of FDC's and Space Covers while still in high school. (Any members out there who bought from Jim in the late 1960's? Did you know you were buying from a high school student?) In college he started getting booths at stamp shows. Even today Jim enjoys going through cartons of covers from a new purchase looking for "treasures." He also enjoys seeing a cover in an exhibit that he sold to a collector.
Jim was a charter member of the USS Kalamazoo Chapter #75 of the USCS, a chapter that hosted 3 conventions while they only had 7 members. Along with the conventions he's attended, he's been to several Nathan Hale Chapter Cover Fests, something he's found even more fun than conventions because of the informal atmosphere. He recommends going to conventions to meet others, including old timers and "experts" in order to learn from them. He has exhibited at conventions several times, with his favorite being his Tokyo Bay exhibit. He exhibits at KAZOOPEX each year and has had a new exhibit in some area for over 20 years. Many of his exhibits are from his Michigan town cancel collection.
Jim was married on Valentine's Day 2000 to wife Cathy in Las Vegas. They have no children but have a wonderful dog, Chuckie. Because of health issues with family members, Jim has not been traveling long distances to shows the past several years and most shows he attends are now in the Detroit-Chicago corridor. If you are attending a show in that area, be sure to look up Pack-Rat; you'll find something you can use in your collection.
By Steve Shay