Tazewell Nicholson, USCS #H-839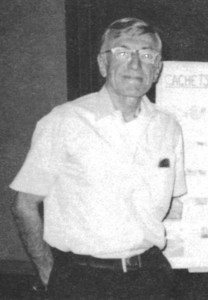 Tazewell Gatling Nicholson was born June 14, 1916 in Portsmouth, Virginia and would live most of his entire life in that area. A well known story is that he had a paper route while in school and his route took him to the different ships in the Norfolk Navy yard. In fact he claimed that he had visited more ships than most of the active Admirals! While he was a collector of coins and rocks, it was his interest in maritime ships that really drove him into the hobby of collecting naval covers in 1934.
He produced his first cover for Memorial Day 1935. He founded the "Naval Cachet & Cancel Club" for which he serviced covers for others where 50 cents a year brought the member 7 covers or for 25 cents, 3 covers a year. While the club folded in April 1940, Taze continued to cover all kinds of events, from keel layings to decommissionings along with shakedowns, holidays and recommissionings as World War II began.
Once the war started, he worked as a blacksmith at the Norfolk Naval Air Station. He would work there for 43 years, eventually becoming an aviation inspector. He kept creating covers during the war. After the war, for Navy Day 1945, he produced almost 40 covers cancelled aboard different ships. During the 1950's he documented the hundreds of ships activated for the Korean War with First Day Cancels-Re Established covers and his Welcome to Norfolk covers became regular themes. Except for some of the recommissionings during the Korean War, he personally carried the covers aboard the ships and either helped the Postal Clerk or did the canceling of the covers himself. His servicing fee was a penny a cover, a rate which increased to 3 cents a cover later, unbelievable rates when you think about it. All told, he serviced over a million covers during his career. His last cover was prepared in September 1995.
Through his efforts with covers, the first and last day of operation aboard ships was recorded. Without these covers, much of this information probably would have been lost.
He joined the USCS in July 1937 and would remain a member until his death. He became a USCS Director in 1946, served as 2nd Vice President in 1951 and 1st Vice President in 1952 and then President from 1953-1955. He also wrote for the Log with a series "Naval News from Norfolk" starting in October 1969, his last article in June 1995. Taze received the Ray St. John Award for his service to the USCS and naval cover collecting in 1980. In 1992, he entered the USCS Hall of Fame.
Taze married Martha Wright in 1947 and they had three sons. His wife and one son passed away during the early 1970's. Taze passed away November 4, 1997 after a battle with cancer.
USCS member Ludo Janssens (#9905) prepared an excellent booklet about Taze with a biography and a listing of the covers he produced and a discussion of the types of cachets.
By Steve Shay (#L-10,821)