Desmond Jagyi, USCS #H-810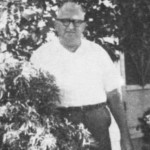 I imagine that most collectors probably have at least one cover in their collection either addressed to Desmond Jagyi or with his rubber stamped name on the back of the cover. I knew the name because I keep running into it on my covers but I knew little about the man.
Jagyi joined USCS in April 1935, member number 810, recruited by H. J. Lindhart (#125). His address was in Bridgeport, Connecticut.
He was the Chairman of the USCS Membership Drive in 1936.
He served as the author of a column called "About Naval Covers"in the Western Stamp Collector, taking over for Herb Rommel in the November 14, 1934 issue with the nom de plume of "Ol' Skipper". He later wrote a column by the same name in the "Our Navy". He was a founding member of the Battleship Connecticut Chapter #29, which received their charter April 25, 1935. The Chapter only lasted until 1936 and then reorganized in 1937 but the USCS Yearbook for 1938 shows the Chapter was once again inactive.
He serviced covers for collectors in very large quantities and over a long period of time. He also sponsored printed naval covers cacheted for holiday, anniversary, ship construction events and general purpose themes. Most of his covers do not indicate the artist names and many of them use standard printer cuts that he probably arranged himself. It's all those serviced covers that we see today with his rubber stamp on the front or reverse.
Jagyi served as a USCS Director 1953-1955 and again 1957-1963. He was a prolific recruiter and is mentioned among the recruiting leaders in 1970, 1971, 1975 and probably in many other years. In August 1968, Desmond was granted honorary membership for his 33 years of service to Navophilately and to the Society thru his sponsorship of covers and authorship of hundreds of articles that at that time still included articles in "Our Navy" and "Covers" magazine. When he was given this honor, it was noted that he was best remembered for the help he gave to newcomers, always something to be proud of.
The January 1975 Log mentions that he had become a great grandfather in November 1974. Desmond passed away in February 1992.
I still know little about Jagyi but it is apparent that he gave a lot to the hobby and to other collectors and is responsible for many of the collectors found in the hobby even today. It's these type of individuals that have made USCS a wonderful society and have introduced so many of us to the hobby of Navophilately.
By Steve Shay (#L-10,821)