Stewart Milstein, USCS #L-7205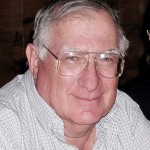 If you participate in the USCS Sales Circuits, you will know the name Stewart Milstein. Stewart is the current Sales Circuit Manager and a USCS Director since 1995. I asked him how he got involved in the Sales Circuit and he said 12 years ago he made a comment about the circuits to the Secretary/Treasurer Lorraine Kozicki and was asked if he thought he could do a better job. He said "Yes" and the job was his.
He was born in Brooklyn in 1943 and has lived there all of his life until seven years ago when he became a snow bird and he now spends winters in Tucson, Arizona and summers in Brooklyn. He married Dorothy in 1964. Both went to college in Brooklyn and both became high school teachers. Stewart received a BA and MA in History and taught for 37 years, teaching Social Studies, World and US History, Geography, Economics, Government and Advanced Placement American History from 1965-2001. He estimates he taught 12,500 students and he always included navy history in his lessons. Dorothy was a math teacher for 33 years. They have 2 daughters, Jennifer, who owns a British pub in Brooklyn and has 2 grandchildren and Susan, a college professor at Montgomery College. Stewart and Dorothy have traveled extensively in the US and Western Europe.
He began collecting stamps when he was five years old after his mother took him to a toy shop and bought him a Scott International Album and a bag of 5000 stamps on paper. His father required him to organize the album by writing the name of the country in English as well as the native spelling, the capital name, attach a flag sticker and the language spoken. Stewart is a Life Boy Scout and earned his stamp collecting badge as a teenager. He continues to collect and focuses on a United States collection.
Stewart's interest in naval covers came during his early teens after a cousin who worked as a naval architect at the Brooklyn Navy Yard showed him a cover he had posted to his wife from a shakedown cruise of a post WWII destroyer. When the space program started, his interests were rekindled because stamps were going to the moon and traveling on military ships and submarines. He combined his interest in scientific and historical research and wrote the Surface Ships column for Irene Fager's "One Half Fathoms". He also combined his interests with his teaching and had his students design their own commemorative stamps and first day covers and write about them as part of their language arts and social studies requirements.
Another of his interests is trains. As a resident of Brooklyn he grew up on the subway. He now makes a hobby of photographing trains and volunteers at the Coney Island Rapid Transit Overhaul shop restoring old New York City subway cars while living in Brooklyn. Some of his photos have been used in various train publications. During the winter while in the Tucson area, he volunteers at the Postal History Foundation as Postmaster and he also helps sort stamps, file stamps or folds letters for mailing. Like many of us, he keeps very busy with his interests and says that there are not enough hours in the day for all that he wants to do.
By Steve Shay (#L-10,821)