James Edward McDevitt, Sr., USCS #5860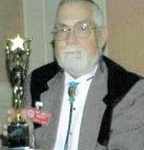 Jim joined the USCS back in 1967. Jim's interests are Coast Guard related philatelic material, USS Maine (SSBN-741) philatelic material and Chess on Stamps. (Well, 2 out of 3 are a great fit with USCS.)
Jim grew up in Boston, Massachusetts and one of his boyhood memories is of trees flying by the house during the hurricane of 1938. He graduated from Boston College High School and attended 2 years at Boston College before enlisting in the Coast Guard in 1950. With hard work and dedication, he would work his way from Seaman Apprentice to Chief Warrant Officer, (Naval Engineer, CWO4) before retirement in 1980. Among Jim's proudest Coast Guard moments were being in charge of Coast Guard security during the bicentennial celebrations held in Boston in 1976, during which Queen Elizabeth visited in July, President Ford in April and during Pope John's visit.
Jim found time for a family through all this, married for 46 years to his wife Marilyn, who passed away in November 2005. They had four children, threes sons of whom one is a retired Coast Guard rescue swimmer and now a Life Flight nurse, one a ship captain, one a banker and a daughter. Jim has 5 grandchildren (more Coast Guard recruits?), aged 15, 13, 12 and twins at 11.
After leaving the Coast Guard in 1980, Jim worked as a member of the Norwood, Massachusetts Fire Department until 1995.
Philately is a large part of Jim's life. He is currently serving as the auction director and past president of the Errors, Freaks and Oddities Collectors Club, (where he also served as Secretary for 19 years!), the secretary of the Chess On Stamps Study Unit of the American Topical Association, Chairman of the American Philatelic Society Affiliate Coordination Committee and as the Editor of the Gulf Coast Philatelist.
Jim enjoys exhibiting; his first exhibit in 1996 has led to 55 awards for exhibits in 25 Canadian and United States cities. He has a 10 frame exhibit on Scott 936, the Coast Guard commemorative stamp, a 5 frame exhibit on the ballistic missile submarine USS Maine and a 2 frame exhibit on Errors, Freaks and Oddities on Chess related stamps. He enjoys writing articles for the Log on Coast Guard cutters serving in Viet Nam and has cataloged 2,299 covers from named Coast Guard cutters. He has received 6 medals for articles and/or editing "The EFO Collector", the "Camden County Collector" (in Georgia) and "Gulf Coast Philatelists" (in Mobile, Alabama.) He staffs the winter and summer APS AmeriStamp EXPO & StampShow affiliate's booth answering questions and recruiting.
Jim has met some great folks during his philatelic endeavors and was good friends with the late Clyde Jennings and is good friends with John Hotchner, both over 20 year friendships. Both gentlemen are well known as philatelic exhibitors and writers and have mentored and tutored Jim. Jim also cites the wonderful friendships has gained in the pursuit of naval cover collecting; Paul Helman, Bob Rawlins, Rich Hoffner, John Young, Ted Bahry, Stewart Milstein and Norm Doucette.
By Steve Shay