Laurence J. Briend, USCS #6256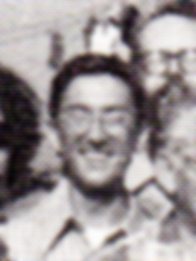 Larry Briend was a native New Yorker. He was born in Manhattan and grew up on the west side, near 34th Street.  He was educated in New York City public schools and was graduated from one of the last public school ships in the nation, SS JOHN BROWN, a World War II Liberty Ship that was operated by the New York Board of Education on the North (Hudson) River in Greenwich Village. He was the son and only child of Canadian-born parents, Laurence and Catherine Briend.  His father was a merchant seaman and a veteran of the North Atlantic during World War II.  In 1969, the family moved to Tompkinsville on Staten Island, New York after Larry completed high school.  He remained a resident of Staten Island for most of the remainder of his life until he died at the age of 53 in the fall of 2005.
Larry joined the USCS in the late 1960s, just after I joined.  His primary interests were ship's photographs, jacket patches, and shoulder tabs but over the years he developed greater interest in covers.  He was a long and active naval enthusiast and vigorous collector and source of information about ship building and deployment schedules.  Larry reached out and contacted me and we soon met and became friends because of our shared hobby.  He was a founding member of USS AMERICA Chapter 71, USCS in the early 1970s and a crucial contributor to the chapter's cover sponsorship for more than a decade.  Larry created the rubber stamp cachet used for the chapter's first two cacheted covers – the commissionings of two nuclear powered attack submarines (SSNs) in the early 1970s.  His childhood friend, Skippy Yurasits – who enlisted in the Navy after high school – drew most of the artwork that the chapter used for its covers during the 1970s.  Skippy was assigned to USS CORAL SEA (CVA-43) off Vietnam and later to USS LUCE (DLG-7).  Larry was an enthusiastic member of the USCS and he regularly drove to NATHAN HALE Chapter meetings in Connecticut on Sundays where we met with our many friends.  Often we joined the Nutmegs for a post-meeting meal at Chuck's Steakhouse.  I cannot drive on the Connecticut Turnpike without recalling happy, and occasionally frightening, memories of travelling in Larry's Pontiac Firebird to the meeting places near New Haven.  Perhaps it was a combination of Larry's long-term vision problems and a youthful "lead foot" but more than four decades later I can recall a few near misses as we raced the 90+ miles each way from Staten Island to the meetings on crowded New York and Connecticut highways.  There never was an accident or a ticket but divine providence played a role in that regard.  We also attended a number of ship commissionings in Boston and Newport and visited Newport with Fred Karcher, who briefly printed covers for the chapter in the early 1970s.  The relationship with Karcher was unfortunate and Karcher made and kept copies of AMERICA Chapter artwork which he illegally used in his cachets.  The USCS refused to act upon AMERICA Chapter's request to investigate and prevent Karcher and OLD IRONSIDES Chapter from using the art work.  Larry also accompanied Karcher to the recommissioning of USS HALSEY (CG-23) at Bath, Maine.  By that time AMERICA Chapter had severed its relationship with Karcher but the ship reported the theft of some of its hand cancelling devices when Karcher and Briend were inside the ship's post office.  U.S. Postal Police investigated and interviewed Larry who maintained his innocence.
Larry worked in a number of leading Wall Street brokerage houses during the 1970s.  His father had been a merchant seaman, who had survived the sinking of a number of ships during World War II.  He was in his early 50s when Larry was born and was blind by the time I met him two decades later.  Mr. Briend died within a few years of the time the family moved to Staten Island.  Larry's mother also worked in Manhattan.  Tragically, she became terminally ill and died a slow, painful death in the middle 1970s.  When I returned to New York one time from Charleston, Larry had been hospitalized.  He never fully recovered from his illnesses and injuries. He lived in his family home for years but eventually sold the house and moved to a series of apartments, briefly residing in Long Island City, Queens, before returning to Staten Island in the late 1990s.  He was a volunteer with New York Fleet week and an enthusiastic participant in the events at the former homeport on Staten Island.  Larry continued his interest in naval covers.  After a period outside the USCS in the 1980s and 1990s, President Rich Hoffner arranged his reinstatement.  Larry collected and distributed data about ship events and movements and freely shared it with his friends and contacts world-wide.  He was particularly active during the first Gulf War, 1990-1991 and contributed much of the data for covers from MSCS and merchant ships.  That information was published in the USCS LOG and now is contained in a Data Sheet.  Larry also helped found USS IOWA Chapter when the battleship was going to be home ported at the Staten Island Homeport.
Larry lived alone in Stapleton on Staten Island during his last years.  For more than a quarter-century, he was never in robust health; a collection of ailments and injuries, particularly head trauma and neuropathy, limited his activity.  His body was found in his apartment sometime after his death in October or November 2005.  A large memorial service was held in mid-December 2005 at the Father Capodanno Chapel on the U.S. Coast Guard base at Fort Wadsworth in the shadow of the Verrazano Narrows Bridge on Staten Islands.  Hundreds of mourners and friends from many military and local organizations attended.  He was buried in Resurrection Cemetery on Staten Island's south shore in early 2006.
by Captain Lawrence B. Brennan, U.S. Navy Ret. (USCS #L-6221)