Vice Admiral George Carroll Dyer, USCS #1667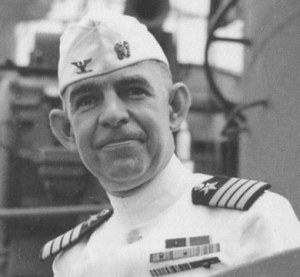 Born in Minneapolis, Minnesota 17 April 1898, Vice Admiral George C. Dyer, U.S. Navy (Retired) was graduated from the United States Naval Academy in 1918, accelerated Class of 1919. He died 25 June 1989 and was buried at the cemetery at the U.S. Naval Academy. In 1921, Admiral Dyer married to Mary Adaline Dyer (1895-1991). He was a long-time collector of naval postmarks and USCS Member.
An early submariner, from 1919 to 1924 he served in command of submarines D-9, L-10, and S-15. Dyer also served in a number of surface ships, including USS ARIZONA (BB 39) and USS INDIANAPOLIS (CA 35), (as Executive Officer under Captain Thomas Kinkaid). In 1931 he was graduated from the Naval War College and assumed command of USS WIDGEON (ASR 1 ex AM 22) (1931-34), one of the first submarine rescue ships. He also commanded USS GAMBLE (DD 123) (1936-37). He served on staff of Commander, Destroyers Scouting Force. His next command was Submarine Division Eight from 1938 to 1939. In the years before and during World War II, Dyer served on the staffs of Admirals James O. Richardson, Ernest J. King, and Richard L. Conolly. He was promoted to Captain in 1942, and in 1943 he was the Chief of Staff to Commander Amphibious bases Northwest Africa. Later in 1943, while on board USS BISCAYNE ( AGC 18 ), he was seriously wounded by German airplane gunfire while in Salerno, Italy. Captain Dyer was forced to turn down two cruiser commands before he was able to return to sea—USS AUGUSTA (CA 31) and USS PASADENA (CL65).
His next command was the light cruiser USS ASTORIA (CL 90) which participated in the Philippine, Iwo Jima and Okinawa campaigns and was awarded the Legion of Merit with three gold stars and also awarded the Bronze Star with Combat V. In 1945 and 1946 he served as chief of Logistic Plans, and chief of General Plans. He also had a tour of duty in the Office of the Chief of Naval Operations. As a flag officer, he commanded Cruiser Division 10, in 1951-52. United Nations Blockade and Escort Force (Task Force 95) during the Korean War; Training Command Pacific Fleet, and the Eleventh Naval District from 1953 to 1955. Also in 1955 he was promoted to Vice Admiral and was retired. After his retirement he authored several books, including On the Treadmill to Pearl Harbor, The Memoirs of Admiral James O. Richardson as to Vice Admiral, U.S. Navy (Retired). Between 1969 and 1971 he participated in 15 interviews. The transcript of 547 pages is in the possession of the U.S. Naval Institute.
George Dyer graduated from the U.S. Naval Academy at Annapolis, Class of 1919. He retired as a U.S. Navy Vice Admiral.
By Captain Lawrence B. Brennan, U.S. Navy (Retired) USCS Life Member 6221