Eugene J. Wielki, USCS #2312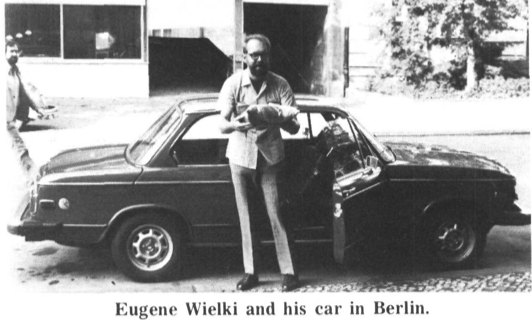 "Hygiene is the only course taught at the U.S. Naval Academy by act of congress," was Gene Wielki's cheerful and humorous response to the greeting, "Hi, Gene". And Gene Wielki was someone who enjoyed chatting on the telephone; he was famous for making Christmas morning calls as a substitute for Christmas cards.  But to this day, 40 years later, I catch myself when tempted to say, "Hi, Gene" on the phone or in person.
Gene Wielki was a young USCS member, a sponsor of ship construction covers in high school, who enlisted in the US Navy during World War II immediately upon graduation from high school and soon won a Fleet Appointment to the US Naval Academy.  He was a member of the Class of 1949 and served more than a quarter century on active duty retiring as a Captain in the early 1970s.  He returned to his native Staten Island where he became active in USS America Chapter 71.  Tragically, he died in the spring of 1976 before his 50th birthday.
Eugene John Wielki was born on 5 March 1927 and grew up on Staten Island. He was raised at 180 Morningstar Road, on the north shore in the shadow of the Bayonne Bridge.  Gene was an early collector of naval covers and while in Port Richmond High School he sponsored covers for building events for many of the destroyers built at the nearby Bethlehem Steel Shipyard, on the Kill van Kull, which separates Staten Island from New Jersey. Gene enlisted in the U.S. Navy after graduation from high school.  He immediately received a Fleet appointment to the US Naval Academy and reported to Annapolis with the Class of 1949.  He was commissioned an ensign and served as a surface warfare officer in amphibious ships and destroyers.  While serving as executive officer of a destroyer, Gene was diagnosed with diabetes.  Relegated to shore duty, he was an intelligence specialist assigned to duty on the OpNav Staff and in Europe.
Following retirement, he returned to Staten Island.  He soon joined USS America Chapter and became an active an enthusiastic member.  He generously contributed a large group of the Staten Island destroyer covers he had sponsored during World War II.  Gene cheerfully participated in our youthful adventures and provided gentle but valuable adult leadership.  He was a kind and quiet man.  He volunteered to act as a "reader" for a local professor who was sightless.  Gene also organized and led great outings for the chapter.  We took a memorable all morning train ride on the R train from near Fort Hamilton in Brooklyn to Kennedy Airport in Queens to tour the fleet post office.  The R train is a local which wanders from the foot of the Verrazano Narrows Bridge via Brooklyn and Manhattan to the ends of Queens.  It was a long but good day and few members who have thought of visiting the FPO and having lunch with a few of the sailors there.  We also visited ships in New York harbor, for port calls or for yard periods.
Gene long planned a visit to his ancestral homeland in Lithuania and Poland when his security clearance bans on travel behind the Iron Curtain were lifted.  But the trip was planned with a splendid and economically useful beginning.  To begin his tour Gene arranged to buy an orange BMW 2002 for delivery at the factor and ultimate return to the US as a "used car" at a "great price and customs duty bargain" he would brag.  In 1975 we would drive to the USCS convention in Connecticut near New London in that car.  It was the first USCS convention that I attended and thanks to Gene and other friends it was a memorable time.  Within the year, however, Gene succumbed to complications from his diabetes.  A bachelor, he was survived by a sister and her family.  Reportedly, his cover collection languished in the family's garage for years and suffered substantial damage before it was offered to a local dealer.
While Gene was a member of America Chapter for a few years he was a great and quiet leader, who knew to help without dictating and who was a wonderful and memorable shipmate.
By Captain Lawrence B. Brennan, U.S. Navy Ret. (#USCS L-6221)