Archie Johnson Lance, USCS #1826
Navo-philatelist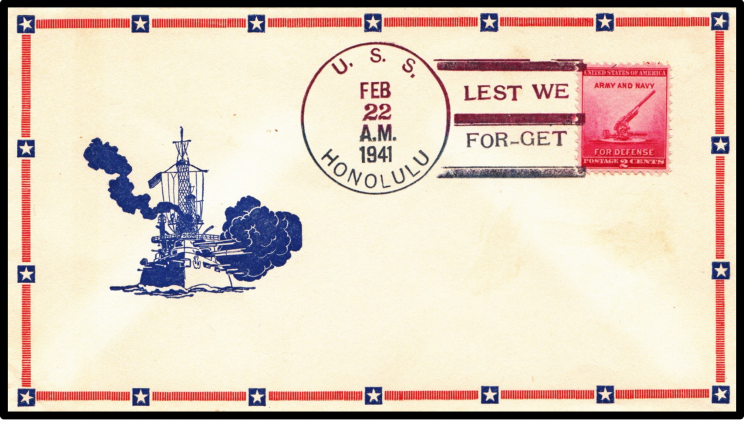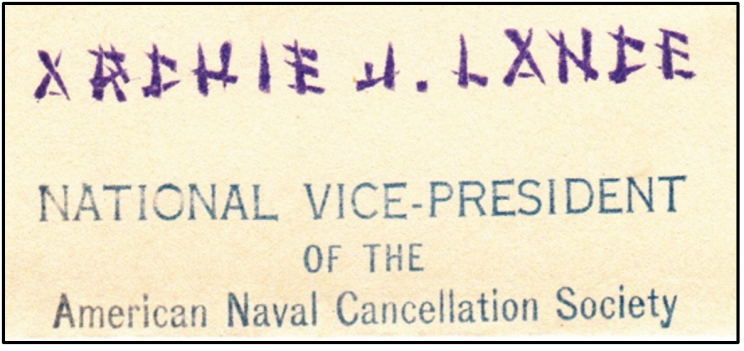 Archie J. Lance is a name known to almost every collector of naval covers – a name linked to our hobby of navo-philately, like that of Joe Louis or Jack Dempsey to the prize fighting world. This was the introduction used by Richard Buchwald, editor of the ANCS Navigator (June 1940) to introduce Archie Lance. He was a member of the ANCS' USS Lexington Crew (ANCS #504) and was a plank-owner of the light cruiser USS HONOLULU (CL 48) that was built at the Brooklyn Navy Yard.
He was born on June 3, 1905 in Doniphan, Missouri. His childhood was spent in the small, little peaceful town at the foothills of the Ozark Mountains, just like any other country kid in the early days of the twentieth century. The little red school on the hill and running barefoot, swimming and fishing in the summer. Picking nuts and chicken roasts in the autumn. Raccoon and skunk hunting in the winter. Then, there was plenty of hard work in between, which went to make a man out a boy at an early age.
Archie had a great desire to see what was on the other side of the mountains and decided to join the Navy and see the world. In July, 1923, an eighteen year old Archie J. Lance enlisted in the Navy. He was sworn in at St. Louis and placed on a train bound for the Great Lakes Naval Training Station. Arriving the next morning, he was just in time for his first "Navy" breakfast – "Navy Beans." The article describes the Navy's boot camp during the 1920s. After breakfast, they got haircuts and were handed their uniforms and told to wear them.
Company "C" was formed with a tough Chief Torpedoman in charge, who had a look of disgust on his face. His first command "Face In" as if the recruits knew what they were supposed to fall into. The Chief looked more disgusted, shook his head and shouting "Are you all farmers?" and finally blurting out "fall in line, like two rows of corn." They knew what he meant, and the Chief grinned with self-satisfaction expression on his face. The new company marched off to the chow hall for dinner.
The first three weeks was a nightmare – needles, salts, pills. Inspections for this and inspections for that. Apparently this was a quarantine period but they finally moved into brick barracks. On Mondays, they would march and drill. On Tuesdays, they would drill and march, and on Wednesdays, it was both, at the same time, double time, single time, all the time until their tongues hung out. The Chief Torpedoman was a very capable man, as Archie's Company "C" took high honors as the best drilled company.
With training finally over, there were two weeks of peeling spuds, slinging hash and washing dishes before good news – Company "C" was leaving for San Francisco. Ah-h— now travel and adventure. The train passed all the best scenery at night time and they saw only the rear ends of factories, dumps, gullies and farms during the day. Upon arrival in "Frisco," Archie was assigned to USS ARIZONA (BB 39) and his first trip to sea was an uneventful one to San Pedro. He was transferred to USS TEXAS (BB 35) for a week, to await the arrival of his next ship, USS NEW YORK (BB- 34.) Lance's NEW YORK billet was that of a powder man, turret No. 3. They made 11 out of 12 hits, in 1 minute, 18 seconds; that was good shooting in those days!
New Years Day, 1924 saw NEW YORK transit Panama Canal and heading for New York City. Archie had advanced to seaman and was assigned to mess-cooking in the Chief's Mess. On a particular day, he changed into white and was sent to the ice box for a pan of chocolate pudding. The ship's supply officer, a Lieutenant Commander, in dress whites was inspecting the galley spaces. About the same time, Archie tripped – his choice, either go down with the pudding or let the pan fly. Well, Archie chose the latter and saved himself. Well it appears, upon arrival in New York, Lance was transferred to the destroyer, USS CHILDS (DD 241) and always wondered if the chocolate pudding had anything to do with the transfer.
A transfer to USS ARKANSAS (BB 33) saw Lance changing his rate to Fireman, Third Class where he heaved coal on the Midshipman's Cruise to Seattle and its return to the east coast. ARKANSAS was converted to an oil burner in 1925, but a short time later Lance's enlistment expired and he was paid off. Archie tried civilian life, working for the Brooklyn Edison Company for nearly 4 years.
After almost four years out of the Navy, Archie felt the urge to be on the move, and in 1930, re-enlisted in Brooklyn and was shipped to the Asiatic Fleet n China. Lance served aboard USS JOHN D. FORD (DD 228) from which he saw most of the Orient. He played base-ball on the destroyer's team against Japanese teams in Wuhu, China until he was injured and had to give up the game. Archie was in Shanghai during the 1932 Sino- Japanese War. In 1933, he was transferred to USS BLACK HAWK.
In 1935, Archie got interested in cover collecting because of the China Clipper flight and the issuance of the Philippine Commonwealth stamps. He obtained first day covers that had photographs of the country's President (Manuel Quezon) and his Vice President (Sergio Osmena) that they kindly autographed for him. So a philatelist was born!
That same year, Archie played guitar with the BLACK HAWK hillbilly band that was heard over radio stations in Shanghai and Manila and received a lot of fan mail from listeners in the states. He joined the American Naval Cancellation Society in 1936 and later served as the society's First Vice-President during the 1941-41 term. Archie joined the USCS and is listed as member #A-1826 in the USCS Log (12/15/39)
After re-enlisting in Chefoo, China (7/17/37), Lance decided to transfer back to the states. He had seen all points north, east, south and west of the Orient. Time to return home, after seven years with the Asiatic Fleet. His father has passed away in November 1935 and his mother was getting along in years.
In August 1937, he received orders to report for duty aboard USS HONOLULU (CL 48) which had just been launched in Brooklyn. Being a cover collector, Archie made friends with the mail clerk, T.P. "Jimmie" James (ANCS #718), and helped him with the canceling of covers. Between them, they canceled over 25,000 covers for collectors, including commissioning covers on June 15, 1938 (see cover image below). James later went aboard the aircraft carrier, USS WASP in April 1940.
At the time of Buchwald's article, Lance was married and had seven more years before retirement. He wore the Yangtze Campaign Medal (1932) and the Good Conduct Medal with two bars. Apparently, he wrote Buchwald that he had been collecting stamps and covers since 1935 and expected to continue to a ripe old age of 84 years and 73 days. Archie died in Los Angeles on March 17, 1989, just months before his 84th birthday.
Following his days aboard HONOLULU, Lance became plank owner of USS BRISTOL (DD 453), where became a permanent Chief Electrician's Mate (7/18/42). He serviced many a cover with wording provided by a straight-line stamp kit. The same kit was used by him to document wartime events on standard embossed naval envelopes in the wording of ship's cancels (see BRISTOL covers at Naval Cover Museum.) Archie was already aboard the USS NEW JERSEY, when BRISTOL was lost in October 1943.
Censored "Free" mail on a Bartley patriotic envelope to Norman Mary was signed by Archie J. Lance, Elect (W.O), USS NEW JERSEY c/o F.P.O. San Francisco CA. He used stamp kit FLASH – 10 AM ROME HAS FALLEN, canceled 5 JUN 1944. He signed other covers to friends and his wife in Bernie, MO (March-April 1945) that has signature as Ch. Elect. A.J. Lance and the battleship's corner card.
April 1946 found LTJG Archie Lance aboard USS WILKES-BARRE (CL 103) and his covers in my collection have him servicing FDC (use) of the ship's type 2n cancel on 6 JAN 1946 and the LDC (use) of ship's type 2z* cancel on the same date. Both the covers have a stamped "Sailor's Mail Free & sailor reading a letter" that resembles a stamp.
It should be noted that Glenn Dye produced a cover #136 for the First Day of Postal Service using the same type 2 name cancel for the light cruiser. A single line mentions Archie Lance by name and rank. Both cancels are the same size (3.3 cm) but Dye's cover has no PM in the dial. Looks like Mr. Dye might have had them serviced when the cruiser arrived at the Navy Yard in Philadelphia in March 1946. One wonders whatever happened to Archie's collection, as his material turns up every now and then. Thanks to Archie for becoming interested in navo-philately and taking the time to service collector's covers during his naval career.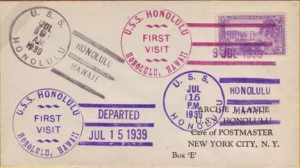 By John Young, L-8219 and the late Richard Buchwald