Emil Cobos, USCS #7020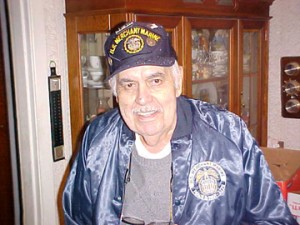 Emil Cobos was born in New York, NY on December 25, 1927. At the age of 14-months Emil had his first sea experience when his grandfather in Germany convinced Emil's mother to send him "alone" aboard a German passenger liner on a round trip voyage from New York City to Bremen, Germany under the care of the shipboard nurses.
At the age of 16 Emil dropped out of high school and talked his father into giving him written permission to join the US Merchant Marine. May 1944 found Emil at Sheepshead Bay Maritime Training Center, New York studying to be a ships steward. On his first voyage as a merchant marine "Galley Boy" Emil Cobos left New York aboard the Liberty Ship SS ELIZABETH BLACKWELL on July 6, 1944 sailing to South Hampton, England. After returning home Emil's next voyage was to Calcutta, India aboard the SS JOSEPH R. DRAKE. When the ship docked in Calcutta Emil saw an US Army Officer putting on a gas mask to enter one of the ships cargo holds. Curious Emil asked one of his older shipmates why was it necessary for the officer to wear a gas mask into the cargo hold? To Emil's horror the reply was, "Didn't you know we were carrying poisonous gas bombs?" Soon after the Second World War ended Emil's next ship, SS ABBOT L. MILLS, was carrying grain to war torn Dubrovnik, Yugoslavia. Upon entering the harbor there was no pilot boat to meet the ship, but there were signals coming from shore, which no one on the bridge of the ship understood because of the language differences. Finally the captain remembers the assistant engineer spoke the Yugoslavian language and he was called to the bridge. Just as the assistant engineer started to translate the signals there was a loud explosion that shook the ship violently. The message being sent from shore, "You have entered a mine field!" The sea mine hit under the #1 cargo hold and the ship was sinking and ordered abandoned, but just before the last lifeboat was to cast off the captain decided to try and save his ship by sailing over to a shallow area of the harbor between two small land masses. That maneuver saved the ship from sinking and within three days they were able to move the ship to a dock to unload their precious cargo of grain from the other cargo holds. Eventually the ship was written off and turned over to the Italian maritime, for whom she served for another 25-years.
After the Second World War was over the sailor maritime unions started to form up again into East and West Coast locals. Unbeknownst to Emil when he sailed on his original voyage in 1944 it was as West Coast union member. Now in order to continue his merchant marine career he had to move to the West Coast and he settled in Portland, Oregon.
Besides the Second World War, Emil served in the Korean and Vietnam Wars zones. During his maritime career he served on 48-different ships for the Grace Line, Matson Line, American President Line, and the American Mail Line, while making his way up to chief steward. The only parts of the world Emil hasn't sailed to are Australia, New Zealand, and east coast of South America. Emil retired from the US Merchant Marine in 1969 after 25-years of service. For the next 24-years Emil worked as a school and bank custodian.
During the 5th grade Emil got into some "trouble" at school. There was a teachers meeting with Emil and his mother. The teacher asked if Emil had any hobbies. As you might guess the answer was no, so the next day the teacher brought Emil a bunch of postage stamps which started a lifetime hobby. Collecting covers didn't dawn on Emil until towards the end of his maritime service and now he regrets the fact that he could have sent covers home from ports all over the world. A family friend knew Emil collected postage stamps and she had covers she wanted to sell and she asked him for his help. In the box was a USS CONSTITUTION cover and that cover hooked him.
Emil joined the USCS in 1972. Around 1977 Emil was approached by USCS member John Wager (#4106) to join the local USS OREGON Chapter #79. The USS OREGON Chapter enjoyed sponsoring covers for the annual Portland Rose Festival/Fleet Week when US Naval, US Coast Guard, and foreign naval vessels docked along the waterfront and shipyards. For this major maritime event who better than Emil to go down to the waterfront to seek out the ships postal clerks to request cancels. A few years later USCS member Jerry Long (#9024) joined Emil on his waterfront excursions during fleet week. Emil and Jerry would walk along both sides of the Willamette River in Portland taking photographs and visiting the ships for cancels. One year Portland Fleet Week had 21-ships making the port visit with team Emil/Jerry visiting them all! Eventually Emil became the chapter secretary/treasurer while Jerry became president. After the September 11 th terrorist attacks the security clearance required to visit a US Naval vessel on a port visit hamper their efforts to request cancels. Due to chapter members "crossing the bar", by 2003 there was only Emil and Jerry left and it was decided to close the chapter. Emil and Jerry are still good friends and see each other often.
Emil was married with five children and four grandchildren and lived in Portland while collecting postage stamps, naval, maritime, civil war, and Oregon covers.
Emil passed away September 16, 2014.
By Mike Brock (# 11060)