Myron Fisher McCamley, USCS #179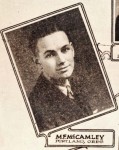 Navo-philatelist of Yesterday
More known as Oregon's Cachetmaker of the 20 th Century, Myron was an early member (USCS #179) of the Universal Ship Cancellation Society and served at several positions in the days before World War II. Known as "Mac" to his many friends, Myron was born in Leavenworth, Washington on March 26, 1907. After his family had moved several times they settled down near Hood River OR in 1918.
He began collecting stamps while in high school (1923) and after accumulating duplicates sold them through his mail order business with penny approvals (1924.) He called himself the Waucoma Stamp Company. After graduation from high school, Mac moved to Portland to attend the Behnke Walker Business College. His approval business moved with him and he changed the firm's name to Multnomah Stamp Company. Mac married Mildred Case in October 1927 and they had two daughters and a son.
He became interested in collecting First Flights and First Day covers (1928) and eventually began servicing un-cacheted covers for his customers, under the Multnomah Cover Service (1929.) That same year, he became office manager for radio stations KGW and KEX, owned by the Portland Oregonian newspaper, a job he held until 1942.
It appears that McCamley handled covers for collectors that wanted from ships that attended the American Legion Convention in Portland OR in September 1932.
A cover in my collection includes a "Conrath Printery" envelope, with manuscript addressee M .F. McCamley, KGW, City and it bears a three straight-line cachet / AMER. LEGION/ CONVENTION/ 9/ 12-15, posted aboard USS OMAHA with type 6 cancel on 12 SEP 1932 at 1 PM. Another covers to a New Jersey collector with similar 3LK posted aboard USS OMAHA on 16 SEP1932 at 7 AM. The cruiser's mail clerk, H.G. Dyer, had serviced other covers with a ship's American Legion cachet for the National Convention in Portland on 12 SEP 1932 at 9 AM.
Other ships – USS REDWING, CG, HMCS SKEENA, HMCS VANCOUVER, USS EAGLE # 38 and USS EAGLE #57 – visited Portland during the Legion's convention and had various markings applied to collector's covers which were brought to the Portland post office for cancellation. I suspect that a notice concerning the event appeared in some philatelic publication, probably inserted by McCamley.
Mac designed a stamp cachet commemorating the Silver Jubilee of the Portland Rose Festival (8-11 JUN 1933.) The cachet depicts a plane dropping roses upon the "City of Roses." According to records, the cachet was applied in four different colors and my cover (violent) was posted aboard USS YARNALL (DD 143) on 10 JUN 1933. His next endeavor was a cachet welcoming "Old Ironsides to the Rose City" sponsored by the Auspices Oregon Stamp Society in August 1933.
During the 1930s, Mac wrote a column entitled "Naval Gossip from the Crow's Nest" for Hobbies magazine and contributed to other publications i.e. Stamps. Linn's, Western Stamp Collector, Kaw Chief Stamp Journal and even wrote a stamp column in Portland's Sunday newspaper "The Oregonian."
He was responsible for organizing the Battleship Oregon Chapter #22 with 16 other charter members in the Portland area. The first club meeting was held aboard the Battleship Oregon on September 13, 1934. Covers were sponsored by McCamley and R. B. Hare (USCS #432.) They had previously sponsored printed covers documenting the visit of President Roosevelt to Portland on August 3, 1934. FDR had taken a cruise to the Pacific Northwest aboard USS HOUSTON and took the train back to Washington.
The chapter sponsored its first cachet for Columbus Day 1934, posted aboard USS MARYLAND (type 7 cancel) on 12 Oct 1934 with three different Navy Day covers (different colors) posted aboard USS PORTLAND (373 covers), USS ASTORIA (373) and Naval Sub Cancel, Oregon (621) The cachet director was Louis Diesing (#695), who handled covers for collectors (1934-36) and Mac took over in 1937. Most of the events documents holidays and Fleet Week in Portland. He also co-sponsored event covers with Robert Kirchgraber (USCS #1673) in the days before World War II.
Mac served as USCS Director 1936, 1937 & 1938 after becoming a Director in June 1935 because of resignations. Records indicate that he served as the 2nd VP during 1938-39 and 1st VP during 1939-40 terms. Official records indicate that Mac asked to be dropped from USCS (March 1941) due to change of interests and lack of funds. Having an interest in earlier merchant ships, Mac probably devoted his time to the International Seapost Cover Club.
Mac left the Oregonian radio station (1942) and took a job as statistician in the classified advertising department of the newspaper. The new job was a night job that did not appeal to him so he went to work for the Willamette Iron & Steel Co., Portland. During the war, Mac went to work at Oregon Shipyards and Vancouver (WA) Shipyards and did join the Coast Guard Reserve (1943-44.)
A letter from him (May 2, 1998) mentions that Mac volunteered hours, 2 evenings a week interviewing full time recruits into the Coast Guard Reserve, had tan (khakis) & Dress Blues and came out W/S 2/c at the end of the war. The Honeyman Warehouse was used as a Coast Guard Base and barracks during the war. Being married, Mac went home after his shift ended at 10:30PM, but he eat evening meals with the gang.
Navy Day 1945 saw him producing cachets for TOPEKA, WOODWORTH and TAYLOR posted with type 2 cancels that bore the ship's name. He used old Chapter #22 holiday cachets for Armistice Day, Thanksgiving, Christmas and New Years Day which were posted aboard post-warships. He rejoined to USCS in November 1945 and he was listed in both the 1947 and 1948 USCS yearbooks. The USCS Cachet Catalog has Mac as a cover sponsor (1933-42), a printer (1928-50) and cachet artist (1933-50.)
In later years, According to Emil Cobos Mac donated Chapter #22 (Battleship Oregon) printers' cuts to the newly formed USS Oregon Chapter #79. The chapter was formed in March 1977 and operated until Emil ceased operations in March 2005. Emil had rubber stamps made of Mac's holiday cuts that was used on Chapter 79 covers. .
Mac had been a warehouse superintendent for the Sunset Valley firm in Cedar Mills, OR when he retired in 1971. Known as the Ol' Scot or Mac to his many friends, he crossed the bar on May 3, 2001 in his 94th year, as I was informed in a letter from his daughter, Patricia Mattson. She was writing to inform collectors would have their checks returned to them, as Mac had been running a cover service.
I wish to thank Ralph Nafziger (AFDCS) for sending a copy of his article on Mac that appeared in the American First Day Cover Society's publication "First Days", July/ August 1980.
By John Young, L-8219