Roger Korth, USCS #11,895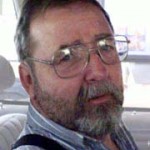 I was introduced to the USCS by member number 137, Emil A. Thurman.  Of course I'm sure Emil has gone on to a better life by now, but he left me a legacy in 1934.
I spent the first 63 years of my life not knowing what a Navy cover was.  Heck…I even spent a hitch in the Navy like my father, and still never heard of one.  Finally retiring here in the bowels of America I sit at my computer one day when my neighbor brings over a box of stuff and says, "You don't have anything to do, why not look these up?"  The first of three boxes of assorted stamps, book cachets, National Airmail Week cachets from Oregon, tons of mint Canadian stamps and my first view of a Navy covers appear.
Seeing the first ship cachet turned me on.  At my age…little does.  As it turned out, I wound up buying the Navy cover from my neighbor and having a nice start to an interesting hobby.  I sent away for my membership in the USCS, and the first article I read was written by Dick Morain's (10,310) Member of the Month and the cover is the USS Cuttlefish.  Dick's father worked there, but he didn't give you THE REST OF THE STORY!!!!!!
The CUTTLEFISH was commanded by LtCdr. C.W. Styer and she was launched on June 8, 1934.  The original cachet you saw was designed by officers and men of her.  Being a nosey sort of individual I went back and researched the ship.  Like most U.S. submarines of her generation, she suffered from chronic mechanical problems and, at the end of her cruise in 1942 after generating no sinkings, she was ordered to the Atlantic for training service.  She spent the rest of WWII assigned to the Groton Submarine School, helping to prepare submarine officers and men for combat; USS CUTTLEFISH was decommissioned in October 1945 and sold for scrapping in February 1947.
In investigating further I tried to find out about LtCdr Styer and looked the name up on the web.  I found a CW Styer Jr. in Florida and inquired about his connection.  Here's where the story gets exciting.  Mr. Styer told me he was the son of C.W. Styer.  I asked if he was interested in the cachet and he told me he had one, and beside that…he was there at the time.  He was in high school when his father took command and watched the CUTTLEFISH get launched.  He later served aboard her as a Seaman Apprentice and rose to the rank of Captain.  He later took command of the USS HOLLAND AS 32 a submarine tender from September 7, 1963 until August 8, 1964.  He is now retired.
That conversation hooked me on covers.  I looked up the USCS and am now the oldest new recruit; I look forward to getting to know each of you better and hearing your stories.
I joined the Naval Reserves in college and passed up a Marine commission.  Just before graduation I blew my knee playing football and became enlisted for two years.  Served aboard the AE-15 USS Vesuvius the entire time.  After release I worked for Grumman as a Material Coordinator and watched the first F14 fly and crash.  I worked for Metropolitan Life for 7 years and spent the rest of my work years selling Yellow Pages advertising for Southwestern Bell.  I'm married to my dear wife Eileen and have two daughters…Paula and Stacey.
Now in retirement I love to fish, eat and look for Naval covers.
If anyone has any cover on the USS VESUVIUS AE-15, please let me know.  In fact…I'd love to get any AE covers that might be available since I am a Member of the Ammunition Ship Sailors Association.
by Roger Korth