Winfred Milton Grandy, USCS #H-128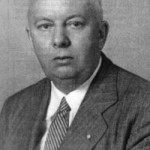 The name Winfred Grandy may be better known to First Day Cover and post card collectors; however he was also a 55-year member of the USCS and a past USCS President. He made contributions to the USCS that are worth remembering.
Winfred was born in Preston, Connecticut September 20, 1899. He grew up in Rhode Island and Connecticut. The stamp collecting hobby called on him very early, at age 8. He bought his first Scott's stamp catalog in 1920 and also attended his first First Day ceremony at Plymouth for the Pilgrim Tercentenary Issue that year. He would be a collector his entire life. In 1918 Winfred went to work for the New York, New Haven and Hartford Railroad as a clerk. He moved to New Haven and after saving his money, entered the Yale Art School in 1926 to study sculpture. He continued to work for the railroad but did take a one year leave of absence to devote to his studies. He graduated in 1931 and thought about becoming a teacher but decided to return to the railroad rather than trying to find a teaching job during the Depression.
In 1932 he married Eleanor Smith. They raised three children, two boys and a girl and they lived in New Haven until 1964.
Winfred joined the USCS in June 1933, receiving membership number 128, recruited by Gerald Coward (#77). It was during this time that he became involved in naval covers as well as becoming very involved with First Day Covers. He became a member of the Admiral Farragut Chapter #3, serving as their librarian in 1934. In March 1936 the first meeting of the David Bushnell Chapter #48 was held at his house. He also began producing cachets for First Day Covers beginning with the Connecticut Tercentenary stamp issued April 26, 1935. He would continue to regularly produce cachets until 1957 though he did some occasionally after that, including a cachet for the first day of issue of the Rochambeau post card in 1980. He attended the 2nd USCS convention in 1941 and received an award for his exhibit.
He agreed to become the USCS President in 1945, taking over for Bertha Thompson who had helped keep the society together during the war years. The March 1945 Log was the first under Winfred's leadership and by the time of the next issue in May, the Log Editor (Loring Stannard #710) had resigned and Win and Bertha split the task until a new editor was found in March 1946. Winfred would be the chairman of the 3rd USCS Convention held in New Haven in April 1946. During the end of Grandy's presidency, USCS dues were raised to $1.50 per year, from $1, in January 1947.
Winfred served 2 terms as President and would serve as Director 1947-1950. During this time he served on the USCS Classification Committee (1948) and was Chairman of the 4th USCS Convention in 1949. He also created the cachet for the 6th USCS Convention in 1952
He was able to use his railroad pass to travel all over the country to stamp shows and first day ceremonies. It must have come in very handy as Grandy did not drive and he used buses and caught rides from friends. His other collecting interests included post cards and his exhibits won over 100 awards. He accumulated 800,000 post cards and he said that the collection weighed over 7,000 pounds when it was sold. He was a member of many philatelic societies including the War Cover Club and American First Day Cover Society and served as President of the All States Hobby Club and Connecticut Philatelic Society.
Winfred retired from his railroad job in 1964. He then moved to Warner, New Hampshire. He passed away there in 1988.
A very special thank you to Dr. Joseph Connolly (#7812) for permission to use information from a biography of Mr. Grandy that he and his son Sean Connolly have written. This biography was published in "The Brookman Times" Summer 2010 issue.
By Steve Shay (#L-10,821)