Dan Jacobs, USCS #11,343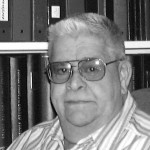 First and foremost, I'm a stamp collector, an off and on hobby I've enjoyed since 1944. My specialties are Canada and U.S. and am now combining my U.S. with that of my wife's, the balance I'm selling off. Like many collectors, we've accumulated a mass of world wide stamps through the years.
As for cover collecting up till 1999 the only covers I collected were those from the Air Mail Week of 1938, May 15-21 and those from local Post offices here on the Cape, which a number of them now are DPOs.
Thanks to a member of the USCS, that member being Randy (Sarge) Kimes, I got involved in Naval Cover collecting and the USCS when purchasing some USS VALLEY FORGE covers from him on E-bay to go with what I thought would be a small collection of covers from the ship I had served in back in the mid-fifties. What was to be a small collection has now turned in to a much larger one than was planned on, but I have stayed with collecting mostly just aircraft carrier covers. Thanks to fellow USCS member Ed Devlin, I now have at least one cover from every one of the so called large fast carriers, right up to the Nuke Carriers of todays Navy.
I am a Korean Era Navy Vet, but did not serve in Korea. I served at NAF Port Lyautey, Fr. Morocco; NAS Norfolk,VA. and ship's company aboard the USS VALLEY FORGE CV/CVA/CVS45/LPH8. I am a Life Member of both the DAV & American Legion, Past Post Commander American Legion Post 206, and a member of the KWVA. I'm a six year member of the USCS and a member of the APS and E-Bay Users Stamp Club, plus local stamp club. One side note here, when stationed in Port Lyautey, I worked with mail clerks from FPO 214, as one of my duties was to see that mail sacks were taken off, or placed on aircraft coming from or going back to the states, as well as being placed on flights headed on to ports of call for the Med Fleet. Strange that a number of years later, one of my trucking jobs would be that of a "Star Route" driver delivering mail sacks to Post Offices from the Cape to Boston and Boston to Portland Maine.
My wife of twenty two years is the love of my life, my best friend, and a partner in stamp collecting, a hobby we have shared in since we were married.
We have six children, four boys, two girls and we have five grandchildren. The two oldest boys served in the Navy, the oldest also served in the Army Reserves before his Navy tour and now works for state Maritime Academy. Number two son retired from the Navy July '05, after having served for the last twenty seven years and now works for the Marine Corps.
One of my favorite covers is a USS Valley Forge CV 45 cover that was done to honor her return to her home port of San Diego from her round the world cruise of 1947/48. On this world cruise she set a few records; first, she was the first Man-Of-War  to circumnavigate the world since the Great White Fleet of 1907/08 and the Happy Valley was the first large U.S. Carrier and the longest ship to transit the Suez Canal at that time. While on this world cruise she would become the first U.S. Carrier to launch aircraft in the Persian Gulf.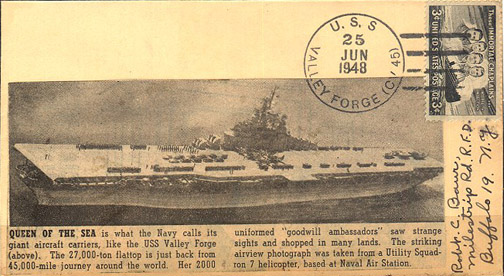 by Dan Jacobs