Dan Goodwin, USCS #4487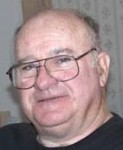 47 years ago on 3 July Sandra and I were married. Raising a family in the 1960's was much simpler than it is today. We have one son, two daughters and eight grand-children. Daughter Vicki is a school teacher, daughter Robin works in the medical field and law enforcement, and son Mark is retired navy. Mark is a plank owner of USS Yorktown CG-48 and USS Lake Erie CG-70. He also served in USS Scott DDG-995. He was stationed at Bath, ME, Pax River, MD, Pascagoula, MS, Argentia, NFLD, Pearl Harbor, HI and Everett, WA. We had some super vacations when he was stationed in Newfoundland and Hawaii. When the kids were in their teens, we took them on a camping trip across the United States. Those memories will last forever.
I am not a veteran. I had a college deferment but, when President Kennedy ordered the Cuban Blockade, I was sure I would be called. So, preferring to ride rather than to walk, I went to the Navy recruiter who just chuckled and told me to go home and take care of my family. I'm caller a "tweener", too young for one war and too old for the next.
I was a process/project engineer in industry when I retired five years ago. My interests are many but at the top of the list is agriculture and stamp collecting. Some combination, huh? I don't remember how I got started with USCS but it was back in the '60's that I joined Nuclear Ships Chapter. Soon after that I received guidance, and covers, from Desmond Jagyi. I tried to sponsor a few covers for sub events at Portsmouth Navy Yard in the 1960's but the covers were pretty crude and I gave that up. Later I "dropped off the face of the earth" as far as the USCS and collecting is concerned. Some years later I again saw the light and was able to get my old number back when rejoining the USCS.
I have been collecting stamps and covers since I was eight years old. It's all my mother's fault. She got me started. I'm now 65. I collect anything that appeals to me that I can afford. I particularly like covers from ships built at Bath, Maine and subs built at Portsmouth, New Hampshire. I have recently started collecting older naval covers postmarked on Christmas. I have many favorite covers, one of which is the 1935 Christmas cover from USS Arctic.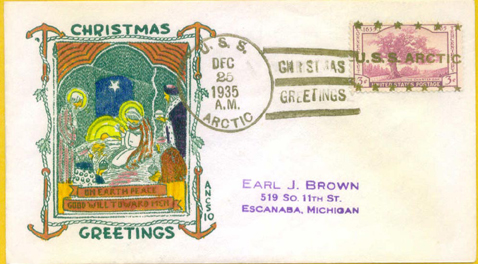 by Dan Goodwin