Gregory R. Ciesielski, USCS #11879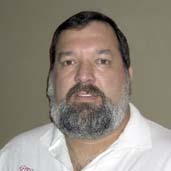 First and most importantly, I am married and have been for 23 years. My wife is my best friend and greatest supporter. We have had three kids, two are deceased and the other lives in Georgia. I am medically retired from Federal service and a cancer survivor. I was born in North Carolina, raised in Maine and currently live in North Carolina. I am a USMC brat with my dad retiring from the US Marine Corps. I was raised about 10 miles away from the Portsmouth Naval Shipyard in Eliot ME.
I started collecting covers in 1985 when the Statue of Liberty was starting to be really commemorated because of her upcoming 100th anniversary. No big interest in stamp collecting before that. From there, I got into Pope John Paul II covers but realized there was no end in sight for either topic and got frustrated because I didn't have the resources to complete either collection.
Then, in 1994, I found a 1919 WWI cover with a Knights of Columbus (KofC) corner card and away I went! I have been a member of the Knights of Columbus; a Catholic, Family, Fraternal, Service organization since 1987 so this topic was a natural. This particular cover was from Dr. Francis Locy when he was with the 6th Marines in France and Germany. I have collected enough military postal history from the KofC to self-publish two books (catalogs) on the subject.
As a side effect of collecting KofC material, I started to collect Columbus Day covers (land and sea) and take a guess where that finally led? Right to the USCS no less. I have well over 150 Columbus Day covers with over half of them being naval uses. I also started to collect USMC postal history so I am busy with finding the covers I seek and researching them.
I am a former Marine, serving during the Cold War (1978-1984) and primarily being stationed in Southern California. I spent a month on the USS Belleau Wood (LHA-3) and six months in Okinawa Japan during my time in the Marine Corps. I am a life member of the American Legion and the DAV. I am a member of the APS, Military Postal History Society (MPHS), Collectors of Religion on Stamps (COROS), American First Day Cover Society (AFDCS) and the USCS. I am also a cachetmaker and started doing that in 1995. As mentioned before, I am a member of the KofC and I currently hold offices on the State level as the North Carolina Newsletter Editor and the State Historian.
by Gregory R. Ciesielski