Deane C. Bartley, USCS #H-44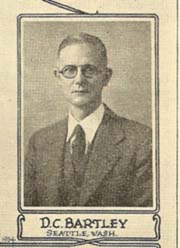 (If Deane Bartley and I had crossed paths before his death, this is what would have been said had he written in response to my questions. Little has been published about his life, only little tidbits which appeared in USCS Bulletins. Some of the information was gathered after a Google search of his name, plus emails from Greg Finnegan and the U.S. Army Military History Institute.)
My name is Deane C. Bartley, the middle initial C. meaning nothing other than the letter. I was born in Hastings, MI on February 28, 1882 and graduated from Albion High School, Calhoun MI (1900). I became a traveling (drug) salesman and pharmacist, residing in Chicago, IL and Spokane, WA. I was married twice. My first wife Georgia (1882-1921) passed away and was buried in the Zillah City Cemetery, Yakima County, WA.
(The 1910 census reveals a Deane Bartley, age 29; wife Georgia, age 27, daughter Blanche, age 3 residing Seattle, Ward 7, King, WA, while 1930 census has Deane C. age 49, wife, Mildred, age 40, a son, William, age 20 living in Seattle, King, WA. It looks like Bartley had at least two children. This author was contacted by J. Deane Fountain (2007) seeking information about his great-grandfather, Deane C. Bartley. He had inherited a box containing 50 rubber stamp cachets and drawings & illustrations by M. Fay Muridge. He had been told by family members that Fay was his daughter. Bartley, often referred to as the "Dean of Philately" passed away on April 3, 1971, with very little written in his obituary in the May 1971 USCS Log except the following: Served as second USCS President (1935-36) and retired as USCS Director in 1965. He was listed as founder of the Washington Philatelic Society, the Collectors Club of Seattle and USCS Chapter #2 (April 1933). It was named after John Paul Jones in May 1933.)
The John Paul Jones Chapter hosted a dinner for Navy mail clerks during Fleet Week in Seattle on July 20, 1933. I served as the chapter's cachet director (1933-34 & 1936-41), sponsoring 213 cachet events and servicing about 121,500 covers up until June 1934. I was USCS' Second Vice President, under York Briddell (1933-34), President (1935) and Director (1948-50, 1953- 1958, 1961-65). As USCS president, I organized the Registered Cachet Directors (1935) for the protection of both columnists and collectors of covers. During my term, the USCS Log was printed, rather than mimeo-graphed, membership exceeded one thousand, and eleven USCS chapters were established during my term. My short biography (USCS Log, JAN 1961) listed me as a widower and as the west coast "Dean of Naval Collectors."
During the years (1932- 1960s), I serviced a million covers- mostly from Asiatic Fleet ships. You can recognize my work by markings on the reverse i.e. my corner card, a six digit number in lower left corner done with automatic numbering machine. I started using the numbering machine in the spring of 1938 with the 700000 series. Most of the cachet designs were done by artists John Coulthard, Ted Rauterberg, Whipple Y. Chester and M. Fay Muridge. Fay's first Chapter #2 artwork was the U.S. Fleet in Asiatic Waters cachet (1939). Even after the war, I continued to hold chapter meetings at the Collectors Club of Seattle. Meetings were held on Wednesday evenings, usually the third week of the month as listed in the USCS Log (1960s).
No, Fay Muridge (USCS #848) was not my daughter. She and her sister, Sylvia Muridge (USCS #868) were both members of Tacoma's USS Porpoise Chapter #23. Both were recruited by its president, Homer Drake (USCS #134). Fay was a commercial artist who had worked in a Seattle department store. Sylvia Muridge was later murdered, but that's another story.
(Greg Finnegan interviewed Fay Muridge (1980s) stating her involvement with Bartley and Chapter #2 came after the demise of the Porpoise Chapter. Fay mentioned that her sister, Sylvia was murdered, but Greg was unable to determine any facts. Her interests were in creating the artwork for cachets, rather than the covers themselves. A check of past USCS records reveal that Sylvia Muridge renewed her USCS membership in July 1936 and that her membership card has the notation "DIED" and no further notations about her death.)
I edited "Naval Covers" published by the National Cachet Directors Council in 1942 and co-edited with Joe Frayne "Ships & Postmarks of the U.S. Navy" for the Yontz Publications, June 1946- June 1947. These thirteen issues contain data on ships, ship names, cancels and those secret Navy numbers used during World War II.
Some of my other accomplishments: a radio talk show (KOL in Seattle) every third Sunday (1934) about naval covers and cancels; promoted the hobby of ship cancels with articles published in the Western Stamp Collector; and I proposed a resolution for a stamp honoring U.S. Frigate CONSTITUTION and wrote a book "Cachets of the U.S. Frigate Constitution, Pacific Coast Cruise, 1933-34."
(The photograph for this story came from that book.)
My obit listed me as a Navy veteran from the Spanish American War and having served as a Chief Petty Officer (Chief Pharmacists Mate) and serving as a member of the Guard of Honor for John Paul Jones' body return to Annapolis in July 1905.
(The first Basic School of Corpsman was established at the U.S. Naval Hospital, Norfolk (Portsmouth) and ran from September 2, 1902 through December 15, 1902. The rating had three grades- Hospital Apprentice (Seaman), Hospital Apprentice, First class (Petty Officer, Third class) and Hospital Steward (Chief Petty Officer)
Surgeon Steward became Apothecary (1866), Hospital Stewards (1898), then Pharmacists Mate (1917) and Hospital Corpsman (1948). First class petty officers wore double-breasted blue or white coats and visored caps, while lower rates wore standard seaman's jumpers and hats. An early 20th century photo of a first class petty officer could be mistaken for a Chief Petty Officer. Usually a sailor would make Chief on his fourth enlistment.
The U.S. Army Military History Institute, Carlisle PA is in possession of diaries of Deane Bartley's days aboard USS MINNEAPOLIS, 1903-05. I was informed by the Institute's' Rich Baker that Bartley made a donation of diaries in April 1969. According to the letter and a competed "Veteran's Survey" the following information about his Navy days: He was born in Hastings MI. At the time of his enlistment he was a student of Pharmacy and salesman of drugs. He wanted to be a doctor and joined the Navy because of his "love of ships and the sea" Bartley was rated as a "Hospital Corpsman, First class."
 According to MSGT Baker, the diaries' are very fragile and it's unknown if they are available at the time of this writing. I wish to thank him for efforts in locating the dairies. The Air Force retiree is the Senior Tech Information Specialists at the Institute. A Bravo Zulu to him!)
Deane C. Bartley was honored by the Northwest Federation (WA) of Stamp Clubs by being added to their Roll of Distinguished Philatelists (1974). As Dean of Philately, he was among the first five inductees into the USCS Hall of Fame in 1992.
John P. Young USCS # L8219