Michael Hebert, USCS #7913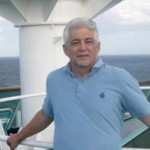 I was born a Navy brat on 4 February 1956 at Chelsea Naval Hospital, Massachusetts. My father MMC Antione Hebert retired in the early 1970s as a Chief Machinist Mate with 26 years of admirable service from the Korean War, Cuba Missile crisis and Vietnam, served mostly on destroyers and escorts. As a boy I was always fascinated with the awesome might of the US Navy and the magnificent site of mighty combatant ships at Newport, Rhode Island and Mayport, Florida. In high school I was able to get a job with a laundry service and every morning I looked forward to going of the ship's fantails at Newport and have the watchman announce that the laundry service was on the fantail where I collected payment for cleaned laundry and picked-up dirty laundry. On one eventful day I was standing on the fantail, heard an alarm and was amazed at the site of a SAM dummy missile load onto its launcher in split seconds! Wow that sold me on joining the Navy! When I spoke with my father about joining the Navy he advised me to join another service believing that Navy life was not for me.
Upon graduation I entered the US Army in the last days of Vietnam and I served 3 years as an Operating Room Technician. With the new GI Bill benefits I decided to get out and pursue a college degree. I had been a stamp collector since I was a young child and during college I turned to a small mail order stamp business to augment my small GI Bill pay. Somehow I came across some 1970s ship covers from the USS America Chapter and I was fascinated with the whole idea of collecting ship covers and joined the USCS. It was at that time that I had the pleasure and honor to meet Commander Paul Huber who was a submarine officer at Portsmouth Naval Shipyard. Paul and I met many times to trade covers and talk about the hobby and to this day we keep in touch through emails.
During college I also attended my first Regional Coverfest around 1979 and met many USCS members. That was some 29 years ago and I vividly remember meeting many interesting, knowledgeable and friendly people. Most notably I remember Paul & Becky Huber, Rich Hoffner, Stan Honeyman, John Milewski, David Kent and Bob Rawlins. I thoroughly enjoyed the time spent with them talking about the hobby and the various sea stories I heard. I was awestruck by the amount of covers. At the event I really enjoyed the dinner and auction, late night trading and the show the next day.
During college I finally got my wish and joined the US Navy Reserves as a Hospital Corpsman attached to a Marine Rifle Company of the 4th Marine Division. In college I entered the US Air Force ROTC program and in my third year I was forced to get out of the Naval Reserves to fulfill my ROTC commitment. I graduated in May 1980 and was commissioned a second lieutenant in the Air Force. I served in Desert Storm as the medical supply officer at a 500 bed contingency hospital established at a WWII RAF base in England near Oxford. Shortly thereafter I decided to become a civilian.
You might ask since I served in the Army, Naval Reserves (attached to the Marines), and Air Force which one I liked best? I enjoyed them all but I have to say that I found being in the Navy Reserves while attached to the Marines as their "Doc" was the most exciting and fun; keep in mind I was young, adventurous and in shape!
I joined the USCS in 1977 and back then Chapters were larger, more prevalent and shipbuilding was at an all-time high with events almost weekly. Once I posted an ad in the log to buy covers and an older member wrote me telling me he was ready to sell his covers and would I be interested in buying them. He offered them to me at .15 – 25 cents each… I told him I was on a limited budget being in college and he stated, no problem I will send you small packets of 100 at a time. As the packets came in I was astounded at the quality of covers and amongst them were large numbers of original Crosby and Czubay Photo cachets and many better cachets. Well to make a long story short it was the buy of a lifetime and eventually most were passed on to other collectors when I disposed of my dealer's stock. By the late 1980s I had accumulated over 100,000 Naval covers and First Day covers and upon becoming an officer in the Air Force I decided to sell off my dealer's stock through Dutch Country Auctions in Delaware. I only wish I had kept them now as I had covers I can never replace including Gow Ngs, Czubay large photo cachets of submarines, and my favorite cover which was a #1 of only 2 made by Morris Beck which was a USS Thresher Commissioning cover signed by the CO and XO (one of which went down with her when she sank). The cover also came with a signed letter from Morris Beck proving only 2 were made. I wonder who was lucky enough to buy that cover in some auction lot?
In 1997 I became a full-time eBay seller and sold every imaginable thing except stamps and covers. After several years of selling antiques and collectibles I had this brilliant idea to list several wholesale lots of stamps from the Campbell Hall Stamp Company of New York City. I sold them without owning them and when I received payment I purchased them and forwarded them on to the lucky buyers. That sparked my interest in stamps and covers again. For several years I sold stamps and covers specializing in topical stamps and covers. Once again I found myself going to local stamp shows and auctions and accumulating a hoard of ship and submarine covers that I did not want to part with because of a renewed interest in the hobby.
In my early collecting years I wanted to produce my own covers but never could figure out a viable way if printing covers on a limited budget with limited resources; there was no internet nor personal computers back then. In 1980, I produced my first cover that was a memoriam and anniversary cover for the sunken submarine USS Thresher posted on the anniversary date of her loss. It was a simple rubber stamped cachet and I presented the envelopes to the postal clerk at Portsmouth NH post office and asked him to hand cancel the 20 or so covers I had done. I received some grief over that request but eventually I convinced him to hand cancel the covers with a circular date stamp. That was the last cover I ever serviced myself. Eventually I began to notice unusual and very attractive naval covers on eBay and after purchasing some I noticed that the cachets were added on by a computer printer. I began to buy any ship cancels on covers without cachets with the goal to do my own add-on cachets.
In 2003, I found that there was enough information on the internet to obtain ship's data and images and eventually found a print program to design my own covers. I decided to standardize most of my cachets by including the ship's name, hull number, ship's data and the sharpest image of the ship. All of the covers I produce are marked on the back cachet added by MhCachets USCS 7913 with the number of cachets made if appropriate. I find that producing my own cachets is very educational, fun and yes exciting! I made an offer to USCS members to do add-ons cachets for them in exchange for blank ship cancel covers and I want to thank Paul Huber, Rich Hoffner and Stewart Milstein for the many covers that they have provided me to add cachets onto. I have since sold some through the USCS circuits but my passion is to make as many cachets as I can and worry about what to do with them later! It has become a passionate and educational hobby and I am glad to have met some very nice people in the society. I am always accepting covers from members for add-ons and please feel free to contact me at nhantikes@aol.com or Michael Hebert, 171 South Hall Street, Manchester, NH 03103. I take great pride in my cachets and feel they add to the hobby. I have included a couple examples of more recent cachets I added to event covers for Rich Hoffner.
I recently attended the 2008 Northeast Regional and although the event was not as big as the early 1980 Coverfest I attended, it was still fun to meet new people, trade stories and buy and sell covers. It was great to converse with old and new friends and I want to thank David Kent and the chapter for a fun event. Lastly I would like to reiterate that this is a great hobby that is educational, fun and exciting. The USCS has brought together many nice people with similar interests and I have met some lifelong friends that I will always cherish. The hobby is a tribute to our great Navy and Coast Guard and to all who have served and are serving now to defend and protect our great country.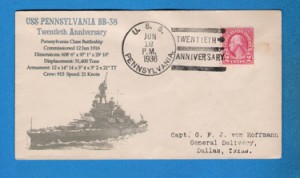 by Michael Herbert