Alex Hesse, USCS #H-163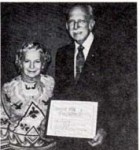 Most members have probably heard of Alex Hesse; he sponsored or service dozens of covers and printed hundreds of covers for others over approximately a 40 year period. If you've ever seen an ANCS Argonaut sponsored cachet with very high quality artwork and hand coloring, you have Alex Hesse to thank.
Born in 1907, he was an early USCS member, joining in 1933 as member number 163. Alex was a printer, taking over his father's printing business in the late 1930's. He joined the USCS at a time when cover collecting was evolving from simple postmark collecting and cachets were evolving into true artwork. The Naval Cover Cachet Makers Catalog lists 6 different cachets as being sponsored by Hesse in 1933 alone. His 1934 list includes covers marking holidays, Navy Day and submarine keel layings. In 1935, disagreements within USCS leadership led to a splinter group forming the ANCS, American Naval Cover Society. Alex joined this group at an early time and received member number 81 though he always encouraged cooperation between the USCS and ANCS.
It was around this time that Alex became a member of the ANCS Argonauts Crew and assembled a group of cachet designers including Richard Buchwald, Martin Aden, C.W. Richell, George Sadworth, M. Fay Muridge, Glen Osborn and Robert Walton. This group, and others, did some beautiful artwork – finely detailed and very distinctive. Alex provided the printing service and the high quality printing matched the quality of the artwork. Alex would print a small quantity of the covers using thermography, raised ink printing which he and his wife Colette would hand color with watercolors on their kitchen table. These hand colored cachets are among the most collectible of the Hesse contributions.
In 1938 Alex became President of the ANCS and later served as the editor of the ANCS Navigator, their journal. When the war started, Alex maintained contacts at the Electric Boat Company and continued to produce covers for submarine events throughout most of the war. (This was during a time when cover collecting almost faded into oblivion as most collectors were in the service or too busy to be collecting and most shipyards were not producing cachets for the ship activity that was going on.) These covers were mostly designed by William F. Spader and the printing and design quality can be seen on these covers.
The war changed many things, including cover collecting. The ANCS folded but Alex continued his USCS membership, serving as 2nd Vice President 1949-1950, 1st Vice President 1951-52 and then later, as a Director 1959-1964.
Alex even continued to sponsor covers as late as 1970 with the Admiral Farragut Chapter. By the 70's, Hesse had retired from the printing business but he still contributed with his knowledge. In 1981 he was made an honorary member of USCS, (the "H" designation before his member number). He passed away January 26, 1985 after a long illness. In 1997 he was made a member of the USCS Hall of Fame.
The photo shows he and his wife accepting the USCS Honorary Member certificate in 1981.
By Steve Shay