Albert J. Banasky, USCS #9300
By Rich Hoffner, USCS # H-4456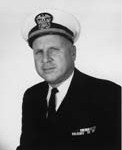 Al Banasky joined the U S Navy in 1940 immediately upon graduation from High School at Naval Station Newport RI. He was a plank owner aboard the USS Dixie (AD-14), reporting aboard as part of the commissioning crew. Al was certified as a second class diver aboard the USS Widgeon (AM-22) in 1942. He would later on become a first class diver. In 1953 he was an instructor at the Staff Explosive Ordinance School and the following year became a master diver. In 1960 he was "on loan" to the National Geographic-Smithsonian-Link expedition of the drowned city of Port Royal, Jamaica. The city was ravaged by an earthquake on 7 June 1692 when sixty-six percent of the city fell into the Kingston Harbor after an earthquake hit, causing the death of over 2000 people in an instant. Al is credited with finding a pocket watch, made ca. 1686 by Paul Blondel, a Frenchman living in the Netherlands, which was recovered during Link's underwater excavations (from "Sea Diver II") near Fort James.  Its hands, frozen at 11:43 a.m., served as an eerie reminder of the catastrophe. He was featured in the February 1960 issue of National Geographic for the find. He was later assigned to the Naval Ordinance Lab Test Facility in Ft. Lauderdale, serving aboard YDT-9. In 1961 he was selected for lieutenant junior grade and attended OCS (LDO) at Newport RI. As Officer in Charge of the Explosive Ordinance Detachment, St. Juliens Creek, Al served in temporary billets with the Air Force, Coast Guard and several Navy ships during his tour as part of the Navy explosive ordinance disposal field. Two years after retiring from the U S Navy, Al began working for the Norfolk Naval Shipyard where he remained for 21 years, completing 50 years of federal service. Additionally Al served aboard USS Mallard (ASR-1) and USS Howard W. Gilmore (AS-16). Al was awarded the following medals during his Navy career; Navy Good Conduct Award (7th Award), American Defense Medal (Fleet Clasp), American Campaign Medal, Asiatic-Pacific Medal, WWII Victory Medal and National Defense Service Medal (Star).
Al became interested in naval covers through a mentor he met in the Norfolk area, Tazewell G. Nicholson. Taze, as he was known to us, was a regular feature at the Norfolk Naval Shipyard, as a youth serving newspapers to ships and most of his life servicing covers in the yard aboard ships. As their friendship developed, Taze was instrumental in getting Al to sponsor cacheted naval event covers. His covers were unique in the way he did them. They were usually done first on a copier, one cover to a page. After cutting them out and folding into a #6 cover size, they were then hand tinted by him. Many were signed by the CO's of the ships featured on the cover. Most of his covers bear a facsimile or original of his autograph on the reverse. Al was also very helpful to collectors and cachet makers alike, gathering event dates in the Portsmouth, Norfolk and Little Creek areas to determine commissioning, decommissioning, inactivation and change of command information and getting programs for the events which he shared with collectors. Al made a point of face to face contact with Navy personnel to be sure that the information he was about to share was correct and up to date. Al further assisted our hobby by designing many pictorial postmarks issued for events at Norfolk.
Al passed away on the 4 th of July 2009 and was interred in Arlington National Cemetery on November 7 with full military honors including a horse drawn caisson. It is interesting to note that Al was born on St. Patrick's Day in 1921.