USS Dallas – Unofficial Fourth of July cover
By Don Tjossem (USCS #L-10,987)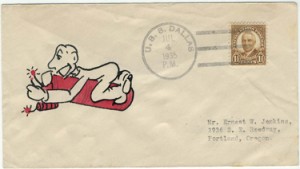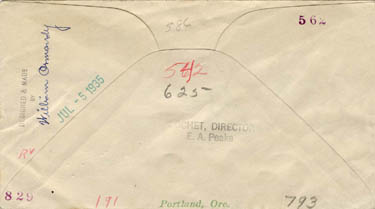 The fourth of July always was a special day for Naval Cachet artists as this cover cancelled aboard the USS DALLAS on 4 July 1935 will indicate. This interesting and comical cachet was sponsored by E. A. Peake, USCS # 646, and he was the Cachet Director. Peake was from Portland, Oregon and was a cover and cachet sponsor from 1934 – 1936. Typically his covers were for Christmas, Valentine's Day, Independence Day and other holiday events or greetings.
William Ormandy, whose signature is on the reverse side of this cover, designed and made this cover for Peake. His tenure as a cachet artist was very short, only being active in 1935. He is not listed in the Naval Cover Cachet Maker's Catalog as being affiliated with any Naval Cover collector's group.
DALLAS (DD-199) was launched on 31 May 1919 and was commissioned on 29 October 1920 by Newport News Shipbuilding Co. At the time this cover was cancelled she was operating in the Pacific area. Although decommissioned on 23 June 1939, she was very quickly recommissioned on 25 September 1939 with the outbreak of World War II in Europe. She was assigned to the Atlantic Fleet, serving as flagship for Destroyer Squadrons 41 and 30.
On 31 March 1945 her name was changed to USS ALEXANDER DALLAS to avoid confusion with the cruiser DALLAS that was then under construction for the war effort. ALEXANDER DALLAS was decommissioned on 28 July 1945 and sold for scrap on 30 November 1945.
The newer DALLAS (CA-150) was cancelled on 28 March 1945 prior to the start of construction. An even later DALLAS (CA-140) was cancelled during construction on 6 June 1946 after the war. It wasn't until 18 July 1981 that the present nuclear submarine DALLAS (SSN-700) was commissioned.
DALLAS (DD-199) received four battle stars for her World War II service in addition to a Presidential Unit Citation.