USS William C. Lawe DD-763
By Glenn Smith (#8073)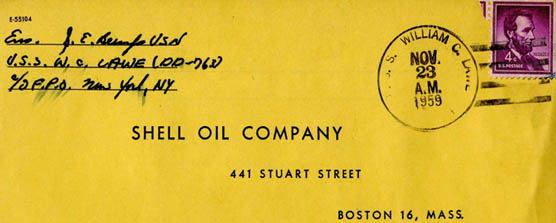 This is a Type 2t(nu) 1959 cancel most likely used while William C. Lawe was in or near her home port of Mayport, Florida. It apparently was used to pay a bill, a number of similar covers have been seen.
The sender is the real story. Stanley Earl Bump, Class of 1958, USNA, was on his first fleet assignment. He would volunteer for submarine duty and serve in several submarines, commanding one.
By 1979, then CAPT Bump was in command of USS Holland AS-31, the tender assigned to Submarine Squadron 14 in Holy Loch, Scotland. That is where I met him and served under his command for the better part of three years. He was a demanding taskmaster, and his plate was full. On his assumption of command, Holland's reputation was not stellar. Within a year, the ship was winning more than its share of accolades, including a Deck Department "D," which is particularly difficult to do in the harsh environment of Scottish waters. As the "Deck Boss" (First Lieutenant), that made me happy.
But CAPT Bump was not without a sense of humor. Those familiar with British motor vehicles will know that cars being driven by someone with a Learner's Permit are required to display a large yellow sign with a huge black letter "L" in the center. The first time the ship got underway from the Holy Loch under Bump's command, the deck sailors being what they are, decided to "test" the new skipper's sense of humor. My sail loft troops made a yellow cloth sign about 25' high by about 20' wide and had it rigged for breaking on the fantail. As Holland turned out of the loch and headed into the Clyde estuary, the giant "Learner's Permit" sign was broken and it literally covered the stern. Our accompanying tug boats took several pictures. By the time the ship had returned from sea, the pictures had been developed, and the best one was framed and presented to CAPT Bump with great ceremony. He had been totally unaware of the "Learner's Permit" hanging from the stern until the photo was presented. It hung proudly in his shipboard office his entire tour of command.
Stan Bump went on to command Submarine Squadron 16 in Kings Bay, was promoted to flag rank and then commanded Submarine Group 6 in Charleston.
In 1985, while Bump was Commander, Submarine Group 6, the USS Alabama SSBN-731 was just finishing her shakedown and was getting ready to sail off to her new home port in Washington state. On the way, she was tasked with the "arduous duty" of visiting Mobile, Alabama during Mardi Gras (little known fact: Mobile is actually the birthplace of Mardi Gras, not New Orleans). There was a small problem, however…no tugs in Mobile were configured with submarine bow fendering, so they could not safely assist Alabama in mooring. At that time, I was the Operations Officer at SUBASE Kings Bay, and had four tugs that could do the job, and so did Charleston. So, Admiral Bump contacted my CO and asked if he could borrow one of my tugs to pair up with one of his to sail around the tip of Florida and up the Gulf to Mobile. And, oh by the way, the admiral wanted to also "borrow" me to command the expedition. And so began one of the highlights of my career.
Harbor tugs are not designed for ocean voyages. Food storage and galley capability are serious issues. Fuel is a challenge, as well. Kings Bay's best tug, Tomahawk, was chosen, and Charleston's best, Cheraw, was assigned to join us. A cook was "Shanghaied" from our base galley, and several of our sailors made a bee line for the local Sam's Club for provisions. Our fare would be mostly canned goods for the cruise, which would be about a week each way.
On the appointed day, Tomahawk rendezvoused with Cheraw off the Kings Bay sea buoy, and we headed south toward Miami. The two harbor craft stayed fairly close to the coastline, so we could "duck in" in case of a problem. This being January, no hurricanes would be lurking, but winter storms could be fierce. And so they were. One "jumped" us off Palm Beach with winds in excess of 60 knots. This is very disconcerting in a harbor craft, to say the least, but we made it through and slipped into Miami for fuel. Another port call was made in Key West (one of the craziest places in the world). The sailors liked that! And then a straight shot was made across the Gulf to Mobile.
One sidelight at this point…both Tomahawk and Cheraw had mixed gender crews. They had no choice but to sleep in the same quarters and to share the same two heads (fortunately, the heads were "one holers," so that was not a problem). Dressing and undressing required a degree of respect and understanding, with opposite gender sailors being expected to leave the berthing area when dressing was in progress. Inconvenient, yes, but sailors do whatever is necessary for a mission. And remember, this was almost 25 years ago, before mixed gender crews were common in the fleet.
The stay in Mobile was nothing short of incredible. The Alabama was the "star," obviously, but my sailors were invited to all of the Mardi Gras functions, and a good time was had by all (what was done in Mobile…stayed in Mobile!). For me, the trip was really special. I was born and raised in Mobile, and my family got to visit our two tugs as well as Alabama.
Admiral Bump was the official Navy host for the Alabama visit, and he was guest of honor at a major Mardi Gras ball.
Admiral Bump retired with two stars and now lives in Sammamish, Washington.
In October, this cover was found in the inventory of a Canadian dealer, Buck-a-Cover. It was purchased for 75 cents. On the 50th Anniversary of the mailing of this cover, it was mailed to the original sender, along with a William C. Lawe picture post card. A fitting closing of a loop.