USS Aaron Ward DD-132
By Steve Shay (L-10,821)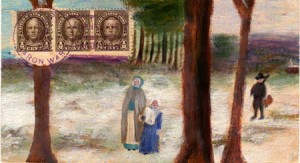 Happy Thanksgiving!

This cover was the canvas of artist Mrs. J.L. "May" Luhta in 1939. May was USCS member #1206 and she prepared covers during the period 1936-1940. She was recruited by Desmond Jagyi (#810) and joined USCS in 1936. In 1938-1939 she was the Secretary of the Admiral Reeves Chapter, #14 and she lived in Los Angeles. She dropped out of USCS and is not listed in the 1940 or later rosters.

May made covers using oil paints and colored pencils. The covers passed through the mail, in fact this cover has a handstamp cancel on the reverse and May added the illustration after getting the cover back in the mail.

This cover was cancelled aboard the destroyer USS Aaron Ward, DD-132, in San Diego at the time of the cancel. The Type 3 cancel has a killer bar slogan reading "Thanksgiving/San Diego". The painting shows a traditional pilgrim scene with the hunter bringing home the turkey.