USS Pensacola CA 24
By John Young (#L-8219)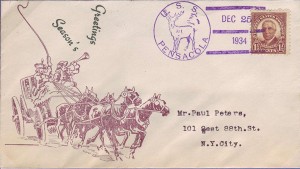 A printed Christmas cover by the Stanlos Cover Service, posted aboard the Brooklyn Born Cruiser on 25 DEC 1934. STANLOS was the combination of Michael Sanders (printer) and John Von Losberg (cachet director) and they (STANLOS) produced printed cachets for holidays, historical events and ship events (keel laying, launch & commissioning) during the pre-war years. Both became charter members of the ANCS Brooklyn Crew in September 1935.
On this cover, the mail clerk substituted a reindeer stamp for date, time, and group in ship's cancel and placed the date in the killer bars. Sorry, no fancy cancel! There is a similar usage by Dean Dunn, mail clerk aboard Receiving Ship, Brooklyn (USS SEATTLE).
The first American cruiser built under the restrictions of the Washington Naval Treaty was this 585-foot, 9097 ton cruiser. Launched at the Brooklyn Navy Yard in April 1929, PENSACOLA was commissioned on February 6, 1930. A post office was established, but its First Day of Postal Service was on 7 APR 1930 with the wording CANAL ZONE in its type 3s (B) cancel. She operated with Cruiser DIV Four, Scouting Force (1932).
She was enroute to the Philippines when the Japanese attacked Pearl Harbor and fought in every Pacific campaign from the Battle of Midway to the bombardment of Iwo Jima and Okinawa. The cruiser earned 13 battle stars for World War II service.
PENSACOLA was used as a target ship and survived both blasts at Bikini Atoll. She was decommissioned on 26 AUG 1946 at Kwajalein, studied for radiological and structural damage and her hulk was sunk in November 1948.