USS Whippoorwill AM-35
Don Tjossem USCS Member # L-10987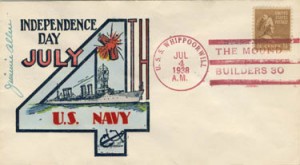 July 2006 Cover of the Month
This Independence Day cover was cancelled aboard the USS WHIPPOORWILL on 4 July 1938. The cancellation is tied to a Scott # 840 Martha Washington 1 cent stamp. In the killer bar are indicated "The Mound Builders 30." This is a reference to the ANCS chapter number 30.
Jimmie Allen, a mail clerk aboard the USS THRUSH, a sister ship to WHIPPOORWILL, signed the cachet. He often signed covers, even though he may not have designed or sponsored them.
This cover was sponsored by Douglas C. and Harry F. Wentz, with ANCS numbers 429 and 435 respectively as shown on the reverse side of this cover. These cachet makers and sponsors were active between the years of 1936 to 1938.
The Wentz brothers sponsored many covers for the Mound Builder's Crew # 30 of the ANCS, which is indicated in the killer bars. This is a reference to the ANCS chapter number 30. The Wentz brothers sponsored many holiday cachets for the "Bird Boats" of the fleet.
Not to be overlooked or forgotten would be C. Wright Richell, USCS #251 and ANCS #6. He was President of the ANCS organization in 1937. The background of the 4 th and the words "Independence Day July" and the exploding firecracker were used in one of his 4 th of July ANCS Argonauts cachets in 1936. His name appeared on that cachet. Richell provided cachet designs for many member and groups of both the USCS and ANCS, including the Wentz brothers. It is obvious that his design was used for part of this cachet when it is put alongside one of his. The depiction of WHIPPOORWILL may have been the only contribution of the Wentz brothers.
WHIPPOORWILL was a minesweeper laid down on 12 December 1917 at the Alabama Drydock and Shipbuilding Co. She was commissioned on 1 April 1919. WHIPPOORWILL operated mostly in the Pacific Fleet up until 1941 when she was refitted and sent to join the Asiatic Fleet prior to WWII.
When hostilities broke out WHIPPOORWWILL immediately began sweeping operations at Manila Bay. It was during these actions that WHIPPOORWILL may have assisted in bringing down two Japanese bombers while helping to defend herself and Cavite.
In February 1942 WHIPPOORWILL assisted in the rescue of British sailors from rafts and lifeboats. These sailors were from the British merchant ship "City of Manchester" that had been torpedoed by the Japanese submarine I-153.
After a refit in 1944 WHIPPOORWILL ended her career as an ocean-going tug. On 17 Aril 1946 was decommissioned and struck from the Navy list on 10 June 1946. WHIPPOORILL was awarded one battle star for her World War II service.