USS Franklin – CV-13
By Steve Shay (L-10,821)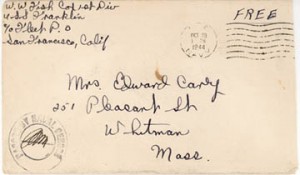 August 2006 Cover of the Month
The cover this month is historical in nature, sailor mail from the aircraft carrier USS Franklin (CV-13). What makes this cover historical is that it was postmarked on the date of the Leyte landings on October 20, 1944. On the 19 th planes from the Franklin had sank several ships in Manila Bay, damaged others and destroyed a floating drydock. In addition, her planes downed 11 Japanese planes. On the 20 th , Franklin aircraft hit surrounding air strips and launched search patrols in anticipation of a reported enemy attack force. By the end of the day on the 20 th , troops were ashore on the beaches of Leyte and General Douglas MacArthur had waded ashore and uttered those words "People of the Philippines, I have returned."
As postal history collectors we must wonder what the postal clerk was doing canceling mail during the PM hours of the 20 th . You would think that clerk had a more important place to be, perhaps at his battle station. Perhaps rain, sleet, or Japanese fleet, the mail had to go through.
The USS Franklin, "Big Ben", had been placed into commission on January 31 of 1944. Franklin had seen action at Iwo Jima, Peleliu prior to Leyte. On October 13 a Japanese plane struck the carrier and slid across the deck after hitting the island structure and slid into the water. On October 30 she was hit by another plane that went through the flight deck and into the gallery deck. After repairs, Franklin returned to action in February 1945 striking the Japan homeland. On March 19, Franklin was closer to the Japanese mainland that any other carrier had ventured before.
A Japanese plane dropped 2 bombs on Franklin and both hit. Within minutes there were raging fires aboard. Franklin soon took on a 13 degree list and lay dead in the water. Heroic efforts kept the ship from sinking and two men, Lt Cmdr Joseph O'Callahan and Lt. (j.g.) Donald Gary received the Medal of Honor for their actions rescuing men and directing firefighting efforts. The USS Pittsburgh took the Franklin in tow until the damaged ship was able to get up steam and sail to Pearl Harbor and later on to Brooklyn.
724 men lost their lives aboard ship on March 19. Among them was BM2C William W Fish, the sender of this month's cover.