USS West Virginia (BB-48)
By Steve Shay (#L-10,821)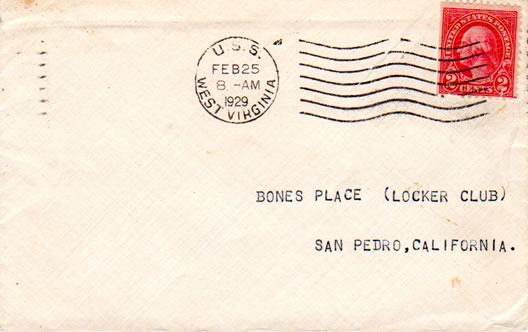 This small cover was sent to a shop we would all like to have visited. Who wouldn't want to visit a shop selling antiques, curious, uniforms, steamship and yacht equipment, coins, naval covers and other philatelic items? The shop was owned and run by none other than Walter G. Crosby.
After retiring from the Navy in 1925, Chief Crosby opened Bones Place to supplement his pension and no doubt to enjoy his hobby of collecting naval and first day covers. As the cover notes, the shop also operated a locker service for sailors to lock their belongings in while away on a cruise.
The cover is rather plain, from the battleship USS West Virginia with a Type 7 cancel with a scarce rating, with a tucked flap and no markings on the back. It was probably sent to Crosby by someone on the ship. The ship had been in commission for just over 5 years at this time, February 1929. The ship would undergo modernizing and would be present at Pearl Harbor on December 7, 1941 where she was sunk by torpedoes and bombs. She would be raised, rebuilt and would serve during several major assaults in the Pacific including Leyte Gulf, Iwo Jima and Okinawa.
There are a couple of good write ups on Crosby in the USCS Log. See the article by John Young, "Navy Day (1927)" in the February 2005 issue or the article by this author in the February 2010 issue or on line on this web site at:
http://www.uscs.org/society-archives/member-of-the-month/archive/walter-g-crosby/