Vincennes (CA-44)
John Young, (#L-8219)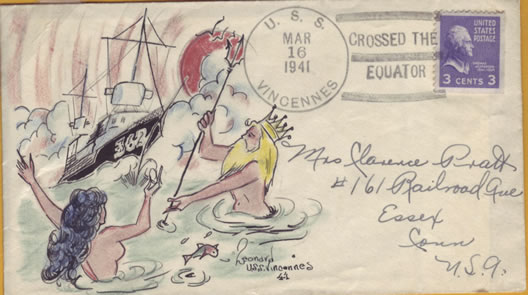 Interesting hand-drawn ink & pen cachet (colored pencil) done by sailor aboard USS VINCENNES (Leonard) for crew-member, H. Avery Pratt for a relative in Essex, CT. Cachet depicts "King Neptune & mermaid" waiting for ship (DD 362) to cross equator & cover posted aboard on 16 MAR 1941 with wording CROSSED THE EQUATOR in the killer bars. According to DANFS, the cruiser arrived in Pernambuco, Brazil (3/17/41) and sailed for Cape Town, South Africa three days later. She arrived at Cape Town (3/29/41) to pick gold bullion which paid for American arms purchased by England. The next day the cruiser headed for New York.
The heavy cruiser was built by Bethlehem Shbg. Co. (Fore River), Quincy MA and commissioned on 24 FEB 1937. Prior to our entry into WW Two, VINCENNES per-formed Neutrality Patrol in the Atlantic until moving to the Pacific theatre after the attack on Pearl Harbor. She escorted USS HORNET & USS ENTERPRISE on the Doolittle Raid and earned two battle stars (Midway & Guadalcanal). VINCENNES was lost during the Battle of Savo Island on November 2, 1942. Another cruiser (CL 64) carrying its name was launched in July 1943.