USS West Virginia
By Glenn Smith, (USCS #8,073)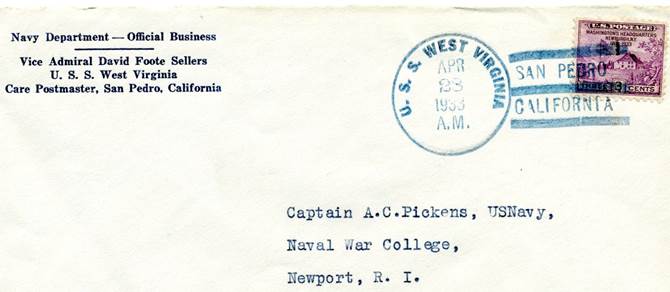 Official business cover from VADM David Foote Sellers, Commander Battleships, Battle Force, flying his flag in USS WEST VIRGINIA BB-48 to CAPT A. C. (Andrew) Pickens at the Naval War College, Newport, Rhode Island. Both officers would later hold higher posts and ranks, with Sellers becoming an admiral, and Pickens a rear admiral.
Admiral Sellers bio from the San Diego Naval History web site:
"Admiral David Foote Sellers was born in Austin, Texas, at an Army post on Feb. 4, 1874, the son of Major Edwin E. Sellers, USA and Olive Lay Foote Sellers. He was appointed to the U.S. Naval Academy as a Naval Cadet from New Mexico and entered that institution on May 1, 1890. Graduating fifth in his class on June 8, 1894, he served the two years at sea, then required by law, and was commissioned an ensign in the U.S. Navy on July 1, 1896. Through subsequent promotions, he attained the rank of rear admiral on June 2, 1927, held the temporary rank of vice admiral from 1932 to 1933 and that of admiral from 1933 to 1934. After his retirement on March 1, 1938, he was commissioned an admiral on the retired list of the Navy effective June 16, 1943 (Act of Congress).
Adm. Sellers saw sea duty on board USS Massachusetts, USS Essex, USS Alliance, USS Independence and USS Philadelphia. He served during the Spanish-American War, took part in the Samoan Campaign in 1899 and was in Philippine waters during the Philippine Insurrection on board USS New York. From 1904 to 1907, he assumed command of the torpedo boat destroyer Stewart.
He also saw duty at the Navy Department Bureau of Navigation and was a Naval aide to the White House. He served on USS New Hampshire as an aide on the staff of Rear Adm. William S. Cowles, commander-in-chief, Asiatic Fleet. Following duty on New Hampshire, he helped commission and served as a plank owner from 1910 to 1912.
Following a tour in San Francisco for duty in connection with the Panama Pacific International Exposition, Adm. Sellers served as executive officer of USS Arkansas and commanding officer of USS Birminghan and USS Salem. He then attended the Naval War College and in 1917, he took command of USS Wisconsin after the United States entered World War I. In March, 1918, he transferred to the command of USS Agamemnon, an Atlantic Fleet transport, remaining in command throughout the end of the war.
After the war, he served for a year on the staff of the Naval War College, and in 1920, was ordered to the Navy Department for a second tour of duty in the Bureau of Navigation. He served as aide to the secretary of the Navy, the Honorable Edwin Denby1 until 1922, when he assumed command of USS Maryland. From June 23, 1923 to September, 1926, Adm. Sellers served as NTC's2 first commanding officer3 as a captain prior to his promotion to rear admiral in 1927.
Following NTC, he served as chief of staff to the commander, Scouting Fleet and as commander, Special Service Squadron during the Nicaragua uprisings. In June 1929, he was appointed Judge Advocate General of the Navy for a four-year term, but on Aug. 1, 1931, he was ordered detached to report on Sept. 15 as commander, Battleship Division One, Battle Force, U.S. Fleet. One year later, he was designated commander, Battleships, Battle Force and promoted to vice admiral. In 1933, after his promotion to admiral, he became commander-in-chief, U.S. Fleet. His last assignment was as superintendent of the Naval Academy, a position he held until his retirement in 1938.
He retired as a rear admiral and was advanced to the rank of admiral on the retired list in 1942. Adm. Sellers died at the Naval Hospital, Bethesda, Maryland on Jan. 27, 1949 and was buried in Arlington National Cemetery. He was survived by his wife, the former Anita Clay Evans, who resided in Washington, D.C. until her death in 1954.
The many awards and medals he received during his career include the Navy Cross during World War I, the Distinguished Service Medal, a special Letter of Commendation by the War Department for service during World War I, the Spanish Campaign Medal, the Philippine Campaign Medal, the Mexican Service Medal and the World War I Victory Medal transport clasp. He was also awarded the Marine Corps Expeditionary Medal for service as a member of the landing force from USS Philadelphia during the Samoan Insurrection in 1899 and the Nicaraguan Gold Medal of Merit, the Nicaraguan Medal of Merit, and the Order of Abdon Calderon from the government of Ecuador."
RADM Andrew C. Pickens: Much less is known about Pickens. He was an ensign in 1906 and by 1940 had risen to rear admiral. In 1940 and into the early part of WWII, he commanded Cruiser Division 7, and flew his flag in USS WICHITA CA-45. Along with cruiser USS QUINCY CA-39, Pickens led an important 'show the flag' mission to South America from June through September 1940 to bolster relations with those countries as war raged in Europe. The two ships called in ports in Brazil, Argentina, and Uruguay. He commanded a cruiser division operating in the Atlantic into the early stages of WWII.