USS West Virginia
By Steve Shay (L-10,821)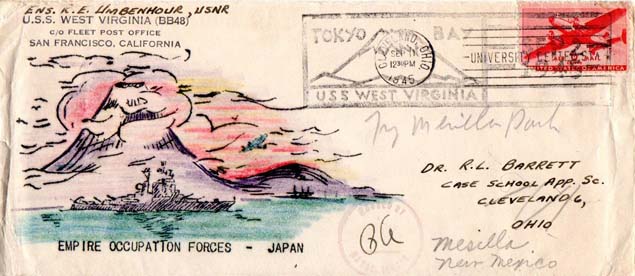 September 2, 1945 was the date of the surrender ceremony held aboard the USS Missouri, ending the war with Japan and ending World War II. Approximately 280 ships were at anchor in Tokyo Bay on that day, from battleships to motor mine sweepers. The aircraft carriers remained outside the Bay on that date, just in case something were to go wrong.
Among the battleships there that day was the old USS West Virginia, commissioned almost 22 years before this date as the ship's printed "unofficial summary of the USS West Virginia's war history" in the envelope reminds us. West Virginia was a Pearl Harbor survivor, having been sunk at her berth on December 7, 1941, the victim of at least six torpedoes and two bombs. After being patched up, she was rebuilt. Her first service was during the Battle of Leyte Gulf where she led the column of battleships into battle. Later she would participate in Mindoro landings and then shore bombardment in Lingayen Gulf.
Next came bombardment duty at Iwo Jima, then Okinawa and finally Ie Shima. The "unofficial summary" says that she fired over 3,000 16 inch projectiles, about 30,000 secondary battery rounds and more than 200,00 smaller projectiles, a total of 5 tons of ammunition.
On September 2 her crew would have seen over 1,000 Navy and Army Air Force planes fly over after the surrender ceremony ended about 9:30 AM. What a sight that must have been.
As collectors, we have someone to thank for the good idea of having the ships in or near Tokyo Bay print envelopes and for the crew to use these to send airmail letters to friends and relatives. Many of the ships went a step further and created a special cancel for that day. This cover shows the Type F cancel used by the West Virginia on an envelope printed aboard showing the fleet and Mt. Fujiyama. Someone made this particular one even more attractive by hand coloring it. Unfortunately the addressee had moved so the cover received an over cancel in Ohio but the West Virginia cancel dated September 2, 1945 can plainly be seen.