USS Sirius (AK-15)
By Steve Shay (#L-10,821)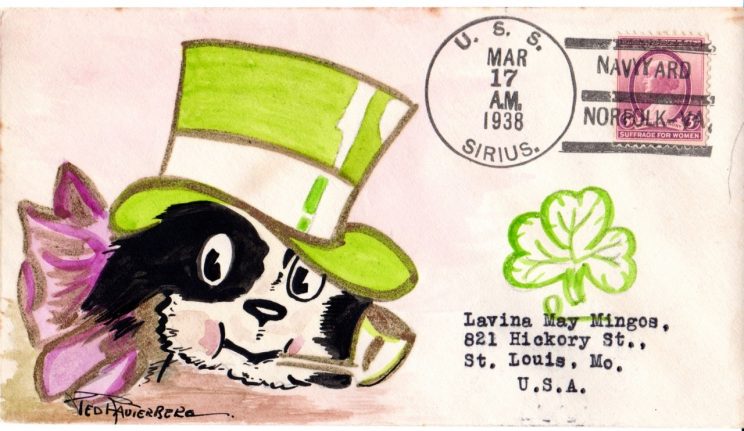 USS Sirius was a cargo ship built in 1918 and acquired by the War Shipping Board in 1922 and assigned to the Naval Transportation Board. She operated along the East Coast and Caribbean and then moved to the Pacific, operating as far north as Alaska and as far west as Wake Island, all the time moving men and cargo to bases in these areas. In 1937, her services included bringing supplies to Midway Island as the importance of the island became apparent and defenses were bolstered.
This cover shows that she was at Norfolk, Virginia on St. Patrick's Day 1938, perhaps during a refit or overhaul.
During the war, Sirius served in the Pacific Theater, decommissioning in 1946 and scrapped in 1947.
This beautiful hand painted cachet was made by Ted Rauterberg; USCS member #1439. Ted was also an ANCS member, #666. Ted was a "shut in" in Milwaukee, Wisconsin. He sponsored and serviced covers, often for holiday events but also for anniversary events and commissioning events. He also prepared cachets for DC Bartley and for the Moffett Chapter #6 of the USCS. The printed cachets were often printed in two colors and some were multipurpose cachets where a ship name could be inserted and changed. His hand painted covers where often prepared for other artists and were produced in small quantities. This particular cover was for fellow artist Lavina May Mingos. Ted prepared covers 1937-1939, passing away in 1939.