USS VESTAL (AR 4)
John Young (L-8219)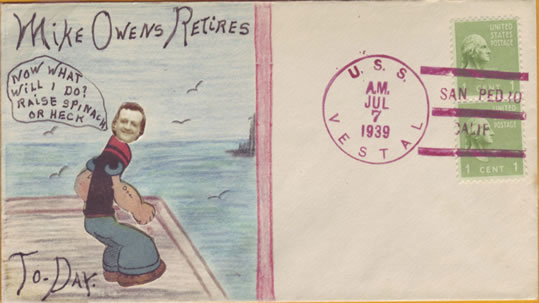 A combination of colored pencil, ink, newspaper cartoon (Popeye) & part of a photograph documents the retirement of Michael Owens from U.S. Navy, posted aboard USS VESTAL on July 7, 1939. Mike enlisted in the Navy during World War I and served aboard USS INDIANA, LEVIATHAN (troop ship), CONTOCOOCK, and several submarines before becoming USCS member #25 in October 1932. He was the subject of the "Know Your Neighbor" column in the January 15, 1940 USCS Log.
Owens joined while aboard the battleship MARYLAND, saw service with Asiatic Fleet aboard BLACKHAWK (1934-35) and returned to sea aboard TEXAS in November 1936 (his mailing address as ANCS #376.) Owens served as both 2nd VP & 1St VP before becoming USCS President for the 1940-41 term. It appears that Owens, who transferred to the Fleet Naval Reserve (1939), as a Chief Motor Machinist was recalled to active duty in September 1940. USCS records indicate that Owens passed away in August 1981.
Authorized as ERIE (Fleet Collier #1), the 465-foot ship was renamed VESTAL in October 1905. Built at the Brooklyn Navy Yard, she was launched in May 1908 and served with the Atlantic Fleet until November 1912. Designated a Fleet Repair Ship, she was re-commissioned in September 1913 and served with the Atlantic Fleet until 1927. All ships received hull numbers in July 1920 and VESTAL was designated AR-4.
She moved to the Pacific and was moored alongside USS ARIZONA during the attack on Pearl Harbor. Her skipper, CDR Cassin Young, was awarded the Medal of Honor for his actions on December 7, 1941. VESTAL received 2 Battle stars for her World War II service and she was decommissioned in August 1946.