USS Tuscaloosa CA 37
By John Young (L-8219)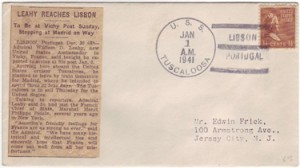 Edwin Frick (USCS #1594) used a 1 cent Martha Washington stamp (printed matter rate) to get a cancel from this heavy cruiser before our entry into World War Two. His efforts were rewarded with this historical cover, posted on New Year's Day 1941 with LISBON/ PORTUGAL in the killers. When purchased, the cover contained a New York Times (AP) clipping, dated 30 DEC which reveals Admiral Leahy's arrival in Portugal.
Admiral William Leahy was appointed the new Ambassador of Vichy, France. He was sent there to meet with Marshall Petain. The object was to keep the French fleet & naval bases from being used by the Germans, especially after the fall of France in June 1940.
The cruiser was built by New York Shipbuilding, Camden, NJ and commissioned on August 17, 1934. One of seven "New Orleans" heavy (9950 tons) cruisers built during the 1930s, she was named after a city in Alabama. She operated with CRUDIV SIX in the Pacific before returning to the east coast in the summer of 1939. War in Europe and the Neutrality Patrol kept TUSCALOOSA in the Atlantic.
A favorite of FDR, the cruiser made at least three cruises with the president and guests aboard before our entry into the war. ADM Leahy and his wife left Norfolk, VA (12/22/40) for passage to Portugal, flying the ship's largest colors as they sailed through the war zone. After disembarking the new ambassador, the cruiser returned to Norfolk on January 11, 1941. The above cover was probably dropped into our mail system.
TUSCALOOSA was decommissioned on 16 February 1946 and earned 7 battle stars for her World War II service.