USS Arizona
By Don Tjossem (USCS #L-10,987)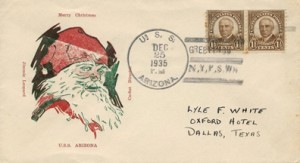 This USS ARIZONA cover was cancelled on 25 December 1935. The cancel is tied to two 1 cent Scott # 686 coil line pair stamps featuring Warren G. Harding. The killer bars include the words "Greetings N.Y.P.S. WN." This would indicate the ARIZONA was at the Naval Yard Puget Sound Washington at the time. In the year of the cancellation of this cover she was featured in a 1935 James Cagney film for Warner Brothers, Here Comes the Navy.
C. J. (Jimmie) Leopard was the Cachet Director for this cover. He was USCS # 836 and served aboard the ARIZONA. He was active as a cachet sponsor between 1935 and 1936. This cover is addressed to Lyle F. White who was a cachet artist of that era. This cover is documented in the Catalog of Naval Postmarks that is available from and published by the Universal Ship Cancellation Society.
ARIZONA (BB-39) was commissioned on 17 October 1916 and barely needs any kind of introduction or historical background since so much has been written about her. She was a "super-dreadnought" battleship. She suffered the loss of 1104 lives from the attack at Pearl Harbor on 7 December 1941. Legislation during the administrations of Presidents Eisenhower and Kennedy resulted in the designation of the wreck as a national shrine on 30 May 1962. The ship herself was designated a National Historic Landmark on 5 May 1989.
She won one battle star for her service in World War II.