USS Triton SSNR(N)-586
By Steve Shay (#L-10821)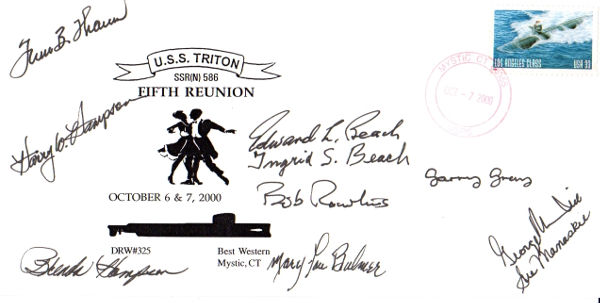 The USS Triton was the only US Navy submarine commissioned with two nuclear reactors and she was the largest submarine at the time of her construction in 1956. Designed as a radar picket submarine, this role was considered no longer needed two years after her commissioning November 10, 1959. Carrier aircraft with airborne early warning and tracking ability offered more flexibility at a lower cost than numerous submarines performing that function.
For her shakedown cruise, she made the first submerged circumnavigation of the globe. The actual submerged circumnavigation occurred between February 24 and April 25, 1960, covering 26,723 nautical miles (49,491 km; 30,752 mi) in 60 days and 21 hours at the average speed of 18 knots.
By March 1961, she was re-designated from her original designation as a radar picket sub, SSNR(N)-586 to that of an attack sub, SSN-586. Due to spending cutbacks, she would be decommissioned in May 1969.
This cover was prepared at the fifth reunion of her crew and features the signatures of two of her four commanding officers, those of Captain Edward Beach and Captain Robert Rawlins, as well as other crew and spouses. The cover was prepared by USCS member Don Wilson, #8231.