USS Trenton – CL-11
By Steve Shay (L-10821)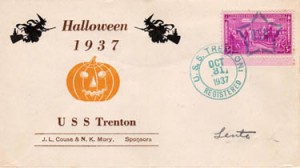 Boo! Witches! Goblins! Black cats!
Happy Halloween! Cover sponsor J.L. Couse and Norman Mary decided to mark this scary holiday in 1937 with a printed cachet featuring a toothy jack-o-lantern and witches flying overhead. (How do those cats stay on the brooms?) Both men worked together sponsoring covers marking holidays and ship anniversaries on many occasions. Couse was a sailor and served aboard USS Arctic, USS Trenton and USS Mahan and helped with getting the covers serviced.
Halloween covers have never been as plentiful as the covers marking New Years, Christmas and the 4 th of July but none the less are popular among collectors. Most that I've seen feature bright orange printing.
The cover was probably given to and is marked with the name of another cachet sponsor who also marked Halloween in 1937, William Linto. Linto had a hand drawn cover postmarked aboard USS Oklahoma and USS Trenton that year.
This cover was cancelled aboard the USS Trenton with the ships Type 9v(C) cancel and a star shaped rubber stamp with a "U.S.N." marking. The light cruiser Trenton was launched in 1923. Trenton suffered a turret explosion in 1924 killing or injuring the entire gun crew. During the years prior to World War II, Trenton served all over the globe. In 1939, Trenton served in Squadron 40-T, evacuating US citizens from Spain during the civil war there. She served for almost 2 years during World War II patrolling the west coast of South America from the Canal Zone to the Strait of Magellan. From July 1944 until near the wars end, Trenton served in Alaska waters, participating in some shore bombardment action, earning one battle star. She was placed out of commission December 1945 and sold for scrap one year later.