USCGC Southwind – WAGB 280
By John Young (#L-8219)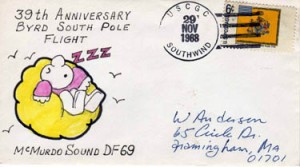 November 2006 Cover of the Month
This cover was posted aboard the icebreaker USCGC SOUTHWIND on 29 NOV 1969, while the cutter was enroute to Antarctica for Operation Deep Freeze '69. Covers was returned (uncacheted) to collectors in early December, while three cutters (BURTON ISLAND, GLACIER & SOUTHWIND) were clearing a channel into McMurdo Station.
SOUTHWIND was built during World War II and served on the Greenland Patrol (commissioned in July 1944) before going to Russia in March 1945. Upon its return, the former cutter was renamed USS ATKA (AGB 3), serving as an east coast icebreaker from Boston (1952-66). When the Navy transferred all its icebreaker to operational control of the Coast Guard, SOUTHWIND reclaimed its original name & hull number.
SOUTHWIND helped establish Heard Island and Casey Station for the Australian Government and was awarded the Coast Guard Unit Commendation. During this world cruise, the cutter traveled 35,000 nautical miles from October 13, 1968 through May 7, 1969. SOUTHWIND was decommissioned on May 31, 1974 after nearly three decades under three flags (Coast Guard ensign (twice), the US Navy flag, and Russia's hammer & sickle).
This add-on cachet by Joe Lynch #5279 depicts "Ziggy" floating on a cloud. Joe's artwork documents the 39th Anniversary of CDR Richard Byrd's flight over the South Pole aboard the "Floyd Bennett" on November 28, 1929. Bernt Balchen, piloted the aircraft and Harold June accompanied them on the flight. Ten flight covers are known to have been carried on the original flight, cancelled aboard CITY OF NEW YORK on February 19, 1930.