USS SCORPION SS(N)-589
By Steve Shay (L-10,821)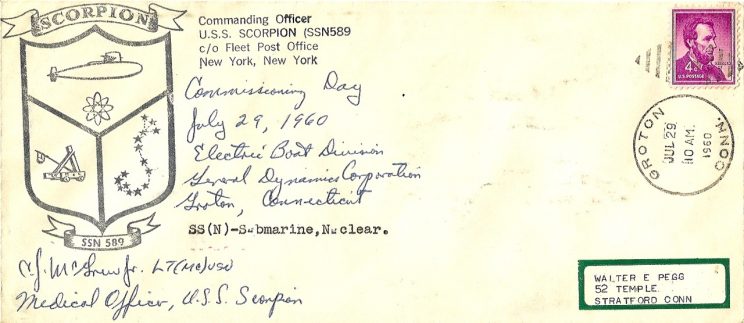 The story of the nuclear attack submarine is pretty well known by naval cover collectors. She would be one of two nuclear submarines lost by the US Navy. Scorpion was a Skipjack class submarine, launched December 29, 1959 and commissioned 7 months later on July 29, 1960. Her service was entirely in the Atlantic, Caribbean and European waters. At the end of a patrol in the Atlantic while on her way to port in Norfolk, the Scorpion was declared "presumed lost" on June 5, 1968. I can still remember reading the newspaper headline at the time.
Using hydroacoustics, the location of the Scorpion was defined to a search box and the lost submarine was located southwest of the Azore Islands. A towed camera sled located the wreckage in water over 9,800 feet deep after 6 months of searching. The Trieste II was sent down to investigate the wreckage. Several investigations have been made to pinpoint the cause of the loss of Scorpion. These investigations have led to several theories and books about the loss. Regardless of which theory is believed, uncontrolled flooding caused the submarine to sink below crush depth.
While the Scorpion was in service for only 8 years, philatelic covers with the ship's rubber stamp cachet are not uncommon. Much less common is a commissioning cover. This cover features the ship's rubber stamp cachet, corner card and hand written cachet noting that the cover was cancelled on commissioning day, July 29, 1960. The cancel was applied in Groton, home of Electric Boat Division of General Dynamics. The cover was prepared by the ship medical officer, Lieutenant C.J. McGrew, Jr. This is one of 25 covers prepared for the commissioning by McGrew.